Big Ugly Red Ant

United States
September 1, 2007 8:15am CST
Yesterday as I was outside I noticed on the ground a big bright red ant with 2 black dots on its back. I tried to kill by stepping on it and it wouldnt die! This is the second one Ive saw since Ive been here. I asked some people on another forum I belong to and they said its the queen ant and to stay away from it. But they didnt tell me what its called. I need to know if its dangerous. I tried looking it up on the internet but couldnt find the kind Im looking for. If you can help me I would love it thanks.
9 responses

• United States
1 Sep 07
We have those ants too, stay away from them! I have always been told they are poisionous. If you get bit you can die, they are bad and almost impossible to kill. I would think maybe spray it with something, because stepping on it does no good, not here anyway. Good luck!


• United States
6 Sep 07
I was just reading acuityplague's response-- that sounds like what you were talking about......if you do get to kill one.... this is what my mother did when we have these tiny beetles in the house when I was a kid and we didn't know what they were. She killed one or two put them in a plastic bag and sent them to a college or university that had courses on bugs and they sent us a letter back telling us what they were and how to get rid of them (we had no money for pest control -so she did what she could-- pretty smart though) turns out they were flour beetles (not sure if thats the name of them) but they got into boxes of anything with flour in it--- cereal- pancake mix - etc...we had to put the contents in plastic containers so they couldn't get in - and evenually they stopped coming around.

• United Kingdom
2 Sep 07
Sweetie I really do not know what they are called but I have seen something on the Internet that there has been a discovery of certain Insects that will not die when you stand on them And I have to admit that this Type of Ant was mentioned apparently they are not Dangerous but you are best to leave it alone and certainly not touch it or try to kill it

• United States
2 Sep 07
Well gabs this morning I was outside and saw a couple of them so I sprayed them with ant killer and that worked. I dont want to take any chances because Im out there alot and so are my girls. Im still trying to find it on the net. Thanks for the info.

• United States
7 Sep 07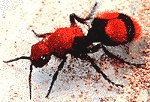 This velvet or cow ant is actually a wasp! We used to see them growing up. You would have to stomp them numerous times and rub your foot across the ground over the top of them in order to finally get them killed. They are scary! http://lancaster.unl.edu/pest/resources/CowKiller.shtml

• Philippines
6 Oct 07
Certainly you're a giant to them and yet they don't die having stepped on them. They may not be deadly but if they bite, I think it's painful. I have not seen such kind yet and I hope they will not multiply rapidly as they're terrifying if they could not be killed by crushing them.

• Philippines
11 Sep 07
Some people are allergic to ants venom and die because of it if not treated emidiately. However, in general ants are harmles, so if they're not too much of a hassle on your background, you can leave them alone to go about their business. After they are just tiny creatures trying to leave in this world like you and I. What's danegrous really is if you've got ant mounts growing in your backyard, then you could do something about it. You said that this ant is nowhere to be found on the internet, so you might have just found a new ant specie you just crushed. They're not harmful if we let them be. After all, we are the ones encrouching in their territory by boldosing forest to build houses. I hope I'm not gonna be accused of targetting your discussion, I'm just saying my piece. Cheers!

• United States
5 Sep 07
hi TerryZ, acuityplague was right. We call them "cow ants" for the reason given. One sting can kill a cow. Another tip on how to kill them is to pour fingernail polish remover on them. The kind that has acetone in it. We didn't have any ant spray one time so I grabbed the polish remover. It makes to where they can't breathe and die. It will take a little longer than ant spray, but it will work as a last resort anyway. Sometimes you may have to pour it on them twice, but it works for us. Hope this helps.

• Canada
4 Sep 07
It could be a fire ant and is probably not native to where you are, so it must have been brought in some tropical fruit. I suppose Raid would kill it. I do not know if it is dangerous. Its sting might hurt quite a bit though. Is this the one you were talking about? http://en.wikipedia.org/wiki/Red_imported_fire_ant Boy they let in anyone nowadays.