HIMYM is SO underrated!!

Pakistan
September 1, 2007 3:15pm CST
the cast brilliant,the concept more than brilliant and yet the only thing they recognize is cinematography ...personally i think this is the next best thing after friends ended,and it isn't even a friends copy and paste,i hope this does not turn into a show like the Gilmore girls or Buffy the Vampire Slayer....where people loved it but they never got the proper recognition (i haven't seen any of the two above but its all over the internet in blogs and stuff) BEACUSE I WANT TO KNOW WHO THE MOTHER IS... if its not ROBIN then who is it??lol WHAT DO YPU THINK??
6 responses


• United States
7 Feb 08
I know for sure they have the first season on dvd but after that I am not sure. Maybe check www.cbs.com and how I met your mother. It is a great show. Me and my hubby watch it together every monday night. (Well before the strike.)


• India
12 Oct 07
I just think even i m waiting for the next season just to know who the MOTHER is. I dont know what ppl think about this show I just love it n like all the characters. Its really entertaining and a whole sum comedy package. A must watch.

• Malaysia
25 Sep 07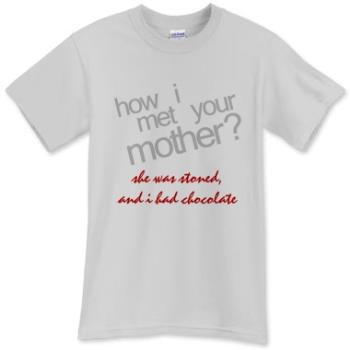 hey auraib,i think the casts are brilliant too,the concept's more than brilliant & yeap,the cinematography's more than brilliant!i agree about HIMYM being the best thing after Friends!So so right!I enjoy Gilmore Girls but not as much as I enjoy HIMYM!HIMYM!we want HIMYM!lol.I really,really wanna know who the mother is & yes,we know now that Robin's not the mother since they refer her as Aunt Robin.

• India
23 Sep 07
Have to agree...himym seems to go on with the spirit of friendship shown in FRIENDS .Though not as appealing as FRIENDS it does seem to have that spirit of friendship in it without copying the other sitcoms......the important question of all .who is the mother?.hmm i think even the producers dont have an answer to it.......they seem to be going with the flow and i really do hope its Robin but then chances of that happening is slim.... but the whole fun in HIMYM is our anticipation to know who the mother is so i hope i dont have to know who the mother is in anytime in the future .....

• United States
2 Sep 07
I watched both the Gilmore Girls and Buffy the Vampire Slayer and thought they got some recognition, they were on for a very long time and Buffy even spawned a spinoff, Angel. As far as who the mother is on How I Met Your Mother, if it isn't Robin, it would have to be someone not on the show and who mostly likely won't show up until the last few episodes if not only in the very last one. So we probably won't know until the show is going off the air, if then.