abs-cbn 2 or gma 7???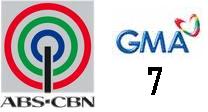 Philippines
September 2, 2007 11:18pm CST
actully, it depends on what kind of person you are, if you knda love trash and shallow entertainment on tv, who likes to connect your self to the characters on soaps, loves to ogle to those beautiful faces, both stations excel in those produts, but since i sometimes watch local station i think RPN and ABC 5 excel in intellectual entertainment and they don't compete each other's time slot, Most of their shows are all originals, no copy cats..
1 response

• Philippines
3 Sep 07
Well I really don't like the style of these two stations...according to them they're the number one TV network, they're the only one telling the truth...Sometimes I find them stupid... Why don't just focused on some programs that would entertain people and give the correct information...

• Philippines
4 Sep 07
the no. 1 station is up to the viewers..altough they say that they are no.1.. but for me not the station,it's the program or show..have a nice day! godbless!