Beautiful Island and Sea Snorkeling - Place you dream for...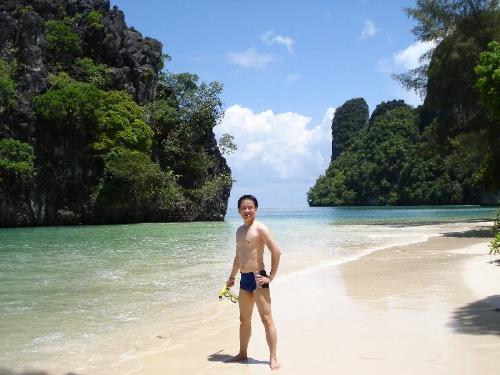 Indonesia
September 4, 2007 10:21am CST
Krabi is the best vacation that I have this year. A white sandy beach with its crystal clear water really FASCINATING! No other words to describe this paradise islands. The first time I arrive at Krabi, it's hypnotized me with its friendly people, foods, and most of all, you can find so many local tours. It's not only affordable, but it's really CHEAP! So, the 1st day I arrived, I took the tour for my tomorrow schedule. 1st day of the tour with Seacanoe. I took a full day tour from 09.00 until 16.30. The tour took me to Lading and Pakbia island where here I spent my time snorkeling around the island. As the water is very clear, I can see through the deep. WOW! Beautiful fishes, so colorful which I can't find it back in my country. I can even feed the fish. From there, we continue the journey to Hong island. Quite large island with the lagoon inside the island. I took the canoe and paddled for around 1 hour. Quite an experience for me since I've never canoeing at open sea. 2nd day of the tour with Phi Phi Tour Just like the 1st day, this time I took a half day tour around 4 islands. It's very famous for its beauty and off course like I said, you can't find it elsewhere. The tour (Phi Phi Tour) took me to Tup island. The guide said when the tide is low, you can walk from Tup island to Mor island by foot! Well.. I got lucky! My first experience to walk on barefoot from island to another.:) As I learned from my 1st day tour, this time I didn't want to miss my chance to snorkel around. Spending about 1 hour, the tour took us to open sea, where we can do snorkeling there. It's even more beautiful. This is the best snorkeling I've ever had. We spend around 30 minutes there and continue to Chicken Island, an island shaped like chicken. Just passing by as we can't land there. We continue to Poda island to have lunch and rest. The tour ended at Railay beach, known for its Phranang Cave and high class resort. Well.. I will absolutely spend my holiday in Krabi again. Hahaha...
1 response

• Philippines
5 Sep 07
It seems like its really very nice beach. We also have beautiful beaches here in the Philippines. But I haven't tried island hopping like you did. I want to try Krabi too.

• Indonesia
5 Sep 07
Well... You have to try it sometimes. I's really fun in Krabi. Next time I go there, I'll try the rafting and jungle trekking. For the value of money, Krabi is the best vacation I've ever had. For 4 days 3 nights, I spent about US$ 400 (inc. air ticket, fiscal, accommodation, and tour).