Perfect Stranger

United States
September 4, 2007 3:46pm CST
I JUST finished watching this and DAMN it was GOOD!!! I'm a serious Halle Berry fan to begin with and Bruce Willis as well as Giovanni Ribisi are also favs of mine....Perfect Stranger was truly a terrific psychological thriller BUT the terrific part IMO was the twisted ending....Here's the Netflix write up of it.... "This thriller directed by James Foley stars Halle Berry as Ro, a woman who risks her life to discover the identity of a stranger lurking on the Internet who may hold the answers to her friend's murder. What Ro discovers is a murky world of online deception peopled by the likes of Harrison Hill (Bruce Willis), a mystery figure who may be a friend or a foe." anyone else seen it yet? What did you think of it?
3 responses

• India
10 Jul 12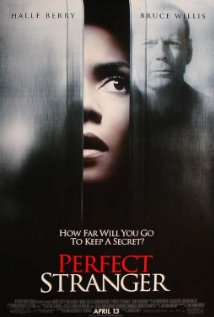 I have seen Perfect Stranger and it's thoroughly a boring movie to watch. I don't know how you liked this movie but I hated it. I saw this movie because Halle Berry and Bruce Willis were in the movie, but I was quiet disappointed with this movie ..

• United States
5 Sep 07
i always seem to really enjoy the movies you recommend so I have just ordered it. Netflix says there is a short wait but that's OK as it sound really good. Thanks

• United States
4 Sep 07
I have not seen it yet, but anything with Halle Berry and Bruse Willis has got to rock! I am huge fans of both of them.