I love having my 3 cats sleep in the bed with me (and my husband!)

Ireland
September 4, 2007 7:35pm CST
What is wrong with this? Some of my friends recoil in horror at the thoughts of animals sharing the bed, especially cats. My 3 cats are allowed the run of the house and one of them sleeps in - yes IN - the bed every night. The other 2 only sleep inside the covers at winter or when it is particularly cold. But they all are to be found in our bedroom each night, I like them there to be honest and cant see a problem. Do you see a problem? We are all healthy, the house is clean, I vacuum every second day, no great problem with cat hair though there is some. What do you think??
4 responses

• United States
5 Sep 07
Everybody is different. Some people just plain don't like cats either. They might see it as a not very clean thing to do since cats can have all kinds of bacteria and they shed like crazy. But me personally, I have a cat and he sleeps in the bed with me. Seems fine to me.

• United States
9 Sep 07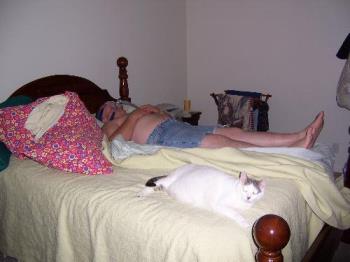 We use to say you where not dressed until you had Forrests hair on you. That was one of our cat's we use to have. He is now in heaven. Forrest use to try to take up the bed, but I would move him over.

• China
5 Sep 07
I envy you, really, I like cats, but my mother does not like them, so whenever I have to go home to take care of a cat it long before, it would be my mother away, I am doctor, but after I married I would certainly support a cat. Lol ... ..

• United States
10 Sep 07
I don't see a problem. I miss having cats. My hubby never had a problem with the cats sleeping with us .... UNLESS the bugger decided to mess with my hubby in some way. Then it was off the bed and out of the room.

• United States
9 Sep 07
I see nothing wrong with your pets in bed with you. I just started a discussion a few days ago regarding having a "Family bed" http://www.mylot.com/w/discussions/1269108.aspx In the discussion I talk about when the kids where little they slept with us and now that they are gone the pets think they need to sleep with my husband and I. One cat sleeps at the head of the bed with my husband and I, up against my shoulder or my neck. I have laid my head on her rump. Now if anyone is going to get sick it would be me from breathing in cat fur at night. She also sleeps under the covers sometimes when it is cold because I do not keep the heater on at night. I feel if the cats are family then why not sleep with you.