if you re-born what would you be ?

Indonesia
September 5, 2007 1:33am CST
make your wish, cos it would be dream come true..
3 responses

• Delhi, India
5 Sep 07
I would like to reborn as I am. I would not like to change into any other person.

• Philippines
5 Sep 07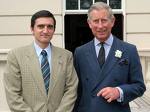 If I would be born again, I would like to be a blue-blooded guy. Of course, this is just a dream. And I have to dream big. This may sound very funny but it's better this way. I want to be a prince or a son of a royal family. It would really be very exciting. I wish I could be like them who don't have money problems at all. I'll really enjoy my experiences. And feel life as an amazing race.