Will M.S. Dhoni be a good captain in 20-20 world cup?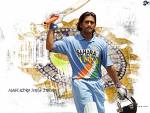 India
September 5, 2007 6:37am CST
T20 world cup is cuming and our Dhoni is new captain of this new format of Cricket . So what do you think dhoni can be a good captain in it
1 response

• India
6 Sep 07
man i dont know how to earn in this stupid site.....thats why i am responding to your discussion......see whether your earnings goes up for this response and then reply me.......regards

• India
6 Sep 07
dude, your earning will not increase just by replying 2-3 times. You have to reply in context with the discussions to earn more money.

• India
8 Sep 07
dfgfxgvnxfbv jhsfh hfshosihgo hofhgosdhgdfvnnf sfgldkghdg fgdfgdfgdg fdgdgdfg