Uses for Empty Wine Bottles??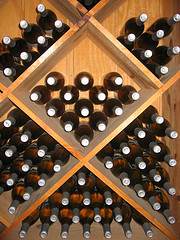 United States
September 5, 2007 9:16am CST
I drink wine regularly and I realized today what a waste it is to just throw the empty bottles away. Does anyone have any ideas on what to do with them? I know I can recycle tham but I was thinking of doing something crafty with them?? Any ideas would be appreciated, thanks!!
3 responses

• United States
6 Sep 07
The only thing I have ever done is to burn many different colored candles in them and let the wax drip and set i an unusual design. My brother actually made electric lamps from unusual bottles and they were always admired.

• United States
6 Sep 07
No problem. I do that all the time because I respond from my email notifications so I dont see what the other responses are until I post mine.

• United States
5 Sep 07
Hi Michele21, I have no idea, but my daughter has been collecting a boxful for some kind of craft, but she won't tell me what..If she lets me in on her secret, I will let you know..

• United States
8 Sep 07
you can use tham as a flower vase and put in some nice flowers.