How Jupiter Changes Over Time?????

India
September 5, 2007 12:08pm CST
We experience changing weather here on Earth. One day it's overcast,and then the next day has clear skies. Same goes for the other planets,it just happens on different timescales.The Hubble Space Telescope has been watching how the planet Jupiter's weather transforms over time - it happens surprisingly quickly.
1 response

• Malaysia
5 Sep 07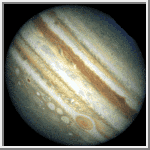 Dear angle007 (74); I like to have knowledge about astronomy. As I know that Jupiter is the largest planet in solar system. And the size of Jupiter equivalent to 1000 size of earth and the fifth planet from the sun. But I still cannot understand the connection between Jupiter changing over time related to our earth's whether. I mean the effects and affects. The Little Me, Michael.