Do all japanese spitz dogs have high-pitched barks?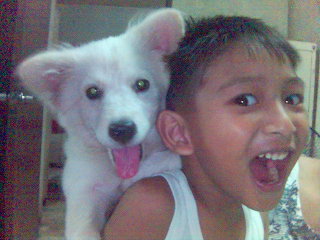 Philippines
September 7, 2007 6:42am CST
Is it only my spitz or is it common for all dogs of this breed to have such high-pitched barks? It is really deafening when you're in one room. What do you usually do with dogs having deafening barks?
3 responses

• India
15 Nov 09
I like Japanese spitz dogs very much,they are very cute to see.I have two Japanese spitz dogs and it is 5years old and i love it very much.Every day i take care about these two dogs and about their food and diet.In my opinion these japanese spitz dogs really have high pitched barks.Whenever i went outside i will keep a chain around its neck and it is a safe place.Japanese spitz dogs look very cute,funny and pretty looking.

• Philippines
19 Jun 08
I think so because our three Japanese Spitz dogs are really like that. They are too noisy specially when a new person comes in. But on the other hand they are sweet dogs but sometimes jealous.

• Philippines
26 Mar 08
I think this is common with the breed, because mine barks that way, too. She usually barks when she's outside, but when she's in the house and barks, it's really deafening, but tolerable.