do you like taking photoes or not?

China
6 responses

• China
15 Sep 07
I think i Like taking photoes and posting them in my blog . I don't know whether it is foolish enough . But I don't mind it . Maybe I just wanna show myself no matter others thinking about it . I know , Everytime , what I posed before the camera ,just the same smile or same expression . But when I took photoes with my friends ,that moment is happy .

• India
9 Sep 07
Yea, Angela, the difficult part for me is in giving the posture to the photographers. When the Photographers, ask us to make a smile(artificial smile ) while taking foto, i feel it is the hardest part for me. Other than this, if i'm allowed to take photo graphs on naturals sceneries, events, happenings, then i would go craze about it, and will go with all cylinders fired.


• Hong Kong
9 Sep 07
Me neither! I absolutely hate taking pictures or I need someone specific to take pictures of me. In general I hate looking at myself on the pictures because I do think that they look worse. But the thing is, if there is someone knows me and take pictures of me, those usually turn out to be great!

• Turkmenistan
8 Sep 07
I use to like taking photos. Especially, when I was younger and worked at Kmart Portrait Studio. Now that I am older and there is a whole lot more of me to capture, I tend to shy away from cameras.

• United States
8 Sep 07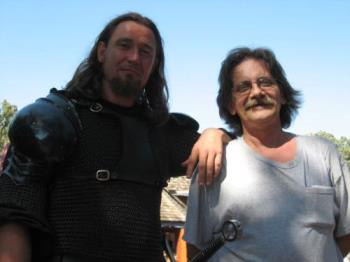 Well first off I will answer what thwe topic stated, yes I love taking photos. I hardly go anywhere without hauling my digital camera with me. Never know when that one great shot appears for me to get a great shot of it. Now to answer what you stated in the discussion, I also feel I myself do not look good when my photo is taken. but I don't mind as I'm an old man anyhow and not out to impress any ladies etc. HAHAHA!! Here's a pic of me at the Reanaissance Festival which I stared a couple discussions about recently which you have not read I think. I think I look bad in this picture. Oh well. HAPPY POSTINGS FROM GRANDPA BOB!!~