How many people have a Gizmo?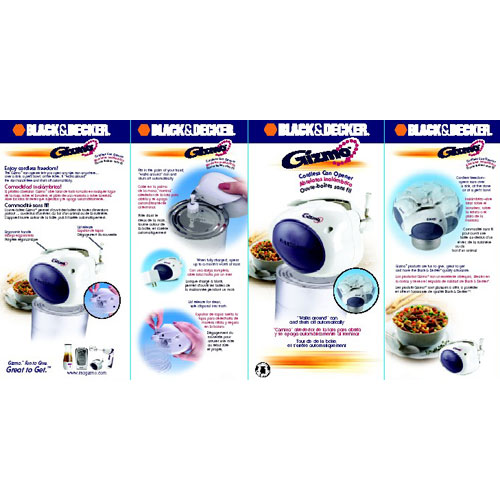 United States
September 9, 2007 8:58pm CST
I have the gizmo can opener, and I love it! I just hook it on the can and press the handle, and the gizmo does all the rest for me! I don't even have to touch the can or the opener! When I purchased my gizmo I did a review on it, and if you go into Walmart.com you go to the can openers, and click on gizmo, and my review is the one listed from Clarksville, TN! I have used all different can openers, and I will say that gizmo is the BEST!
3 responses

• Malaysia
10 Sep 07
Hi marylouu69, a good suggestion to use the gizmo can opener. Once I had read your discussion I then went to the Walmart.com and found the product you mentioned. The price for it was $22.95. How much did you pay for it? There is no walmart hypermarket in my place and I am not sure whether it is available in any hypermarkets here. So it is yet for me to find it out later. Thanks for the valuable information.

• Malaysia
10 Sep 07
Thank you, marylouu69, for providing me the site. I believe you are quite expert and skillful in playing the game so you then could win such a lovely prize. But I am just opposite and I am a clumsy type of person in playing game. Anyhow I will visit the site during my leisure lol...

• United States
10 Sep 07
Thank you, and your very welcome, however I would like to say if you can get a Gizmo, I am sure you will love using it. I would never again, own another can opener. The Gizmo is the best one I have ever had ! If you decide to join on the game site let me know if you have any questions, and I will be happy to help you out! Have a Beautiful Week !

• United States
16 Sep 07
When I first got mine, I loved it also. But I have noticed it seems to have a hard time recharging. Have you had any problems like this??

• United States
17 Sep 07
I have never had any trouble with mine, you should bring yours back to the store for another one it sounds like there may be a problem with the battery. If it is to old to take back to the store than I would contact Black and Decker, and they would replace it for you !

• United States
31 Mar 10
Hi, marylouu69. That is so great to hear about! I have never heard of the gizmo can opener. Is this similar to the One Touch can opener??

If so, I really would like to try this for my kitchen utensils. I am glad that you liked it, I will check out your review on this product at Walmart.com. Your postive feedback is just what we all need to make a firm decision in buying and using a product. Thanks for this information!