This is big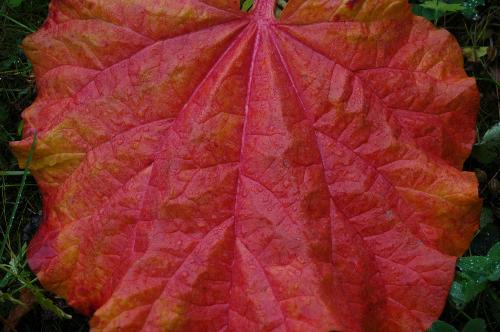 Sweden
5 responses

• United States
12 Sep 07
The color is incredible by the way, and yes, that is one big leaf.:) It reminds me of a plant we have here in the states, you might have it too, and it's called Elephant Ears. It has huge leaves. We have one growing in my dog's lot and she stays under it during the day to get shade. She is about 80-85 pounds and it covers her perfectly.


• Canada
12 Sep 07
Hi matte!Always a pleasure to see your pictures!Its been so long since ive seen rhubarb.It takes me back to when i was young and my grandparents used to have alot of this.Gram used to cut the stalks up and boil them with some sugar.Grampy liked dipping his buttered bread in it!Yummy.Nice picture!Love the red tone.:)


• Pakistan
14 Sep 07
Hey matte its very nice picture and got very good leaf i realy like this one..... And I agree you on tht there are many types of leaf like you are saying about umbaralla type ... Its realy great......