what sports are you into?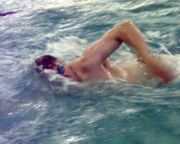 September 14, 2007 6:39am CST
do u like sports. what sports you like to do. what are they? can u name some?
3 responses

• United States
23 Sep 07
My passion is more on basketball (playing or watching games on tv). Before, I played with my college classmates during our sports festivity/intramurals. It wasn't a real hardcore game but just for fun! Sometimes, I even teased my hubby to play basketball with me if we have spare time, well...merely for fun! I am not good in it but I can dribble and shoot the ball and do some slight defense and offense.. I also love to play badminton, table tennis or "pingpong" and volleyball. Lately, I got addicted to watching football especially during Cowboys games, hehehe.

• Philippines
19 Sep 07
Hi there, what's been up to lately buddy? Well, i am not actually a sporty guy, like playing basketball, volleyball, soccer, baseball and etc. But when i was in Grade School i was a Varsity of Soccer in my School but when i was in High School, i stopped and not interested of joining any sports. Coz i preferred to join auditions for theater acting groups, Dance Troupe and Choir Group and also joining contest such as Singing Contest and Poster Making Contest and all those are for my Extra Curricular Activities in the whole years of my High School Life! Then in College, i did not continue all those things that i achieved as i focused with my study as being in College is being independent. But now, i preferred Computer Games instead of Sports. Have a nice day ahead and happy posting and earning here in MyLot, Godspeed. Kiko