Do you donate your blood?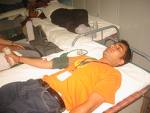 India
September 16, 2007 4:08am CST
Do you donate your blood? Do you like to donate u r blood? how you feel. how many time you donate your blood? I donate blood only 2 times,& i like to donate blood. what about you.
2 responses

• United States
19 Sep 07
I do not like needles, but I do donate blood when I can. Although for some reason, when I donate blood, my body doesn't like me so much afterwards. The drastic drop in blood sugar really gets me, and usually while I am still hooked up to the needle. So I have a hard time doing it. But the last time I donated blood, it was well worth it, because it was for one of my own children.

• United States
17 Sep 07
I'm probably going to sound horrible, but I never donate blood and I will probably never bring myself to be able to do it either. I am a huge needle chicken. I get sick to my stomach at the sight of people giving blood. I get lightheaded and all nerdy panicky if I have to get my blood taken at the doctor's office. I guess I'll have to leave blood donation to other people braver than me.