How do you think a 8-year-old girl's marathon?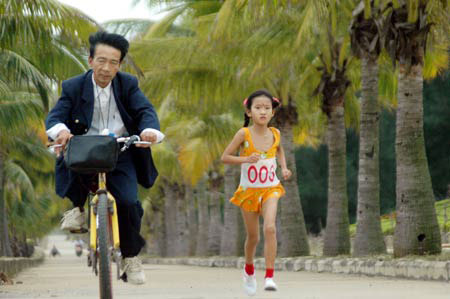 China
September 16, 2007 7:50am CST
I recently read this in newspaper.Zhang Huimin,a 8-year-old chinese girl,arrives in Peking last month after leaving San Ya(in Hai Nan Province in China), with her father following by bicycle.This 8-year-old girl got up at 2:30 every morning and have to run about 65 km a day to reach Peking----or about one and a half marathons a day.The father and daughter made the journey to celebrate the Olympics.I do not think it's a good way for a 8-year-old girl,and her father interfered her daughter's life.It is too early to let her run marathons. What do you think about it?
2 responses

•
16 Sep 07
I saw this a little while ago and t obe honest, I was shocked. The poor girl is running that hard at 8 years old and i wonder what is she going to be like when she is older. I do worry though that her father is pushing her too hard and that she will burn out early like other kids ive read about. I really hope for her sake that this isnt the case for her. It would be terrible I think to have worked so hard only to burn out before she has a chance to shine.

• China
16 Sep 07
Yes,one person's energy is finite.It is too hard for a little girl. By the way,could you do me a favor? I am a new user and have a question? Could I edit my discussion here? If I can ,Where and How? For example, I found some grammar false in my title?Can I correct it?Thank you very much.

•
16 Sep 07
I honestly dont knowof any way to dit a discussion once its posted. I was wondering the same thing because ive made a couple of mistakes when typing too fast!

• United States
30 Aug 08
why didnt he get off his butt and run and let her ride the bike. he could have severely injured her bones in the future. time will tell. and my mom is scared about me training for a marathon for my 18th birthday, because she is scared of a long lasting injury.