What was your favorite toy growing up?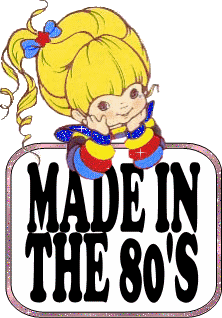 United States
September 16, 2007 11:11am CST
My favorite toy was Rainbow bright. I loved that doll. I had everything all of her friends, and all the sprites, and I had three of her horses! I loved it. My second favorite had to be Strawberry Shortcake. I didn't have all of them, but pretty dang close. What was your favorite toy? Did your child have or do they have a favorite toy? Do you see any of the toys that were popular when you were growing up coming back?
5 responses

• Canada
16 Sep 07
When I was growing up I loved dolls. I like to play with Barbies and I especially liked Strawberry Shortcake. I had a lot of them too and even the houses and the car and pets. It was so much fun and they smelled really good. Strawberry Shortcake has made a come back in the last few years. They look a little different but its the same dolls. So glad kids today will get to enjoy a classic.

• United States
16 Sep 07
Yeah it seems like all the classics are coming back, shortcake, gi joe, all of them. It is so great. My only thing is I had all boys, so I have no girls to buy the shortcake dolls for. They did smell really great, but they never last long. only a few weeks or months, I wish they had made the shortcake spray so you could recharge the smell.LOL


• United States
16 Sep 07
And connex(sp) The little magnetic toys I liked those too. TY

• United States
17 Sep 07
It is a toss up between my Barbie dolls, my little people, and my toy car garage.I had about 12 Barbie dolls and I would make up soap opera situations for them. And my little people were the little toys from Fisher Price and they came with a house and a school,and a car garage. It was a three tier garage and it had an elevator. It was cool.

• United States
17 Sep 07
I think we all made up the "soap opera" senerios for our barbies, it was just more fun that way.. *announcer voice* last week on the plastic and the beautiful, Barbie found out the her beloved Ken was messing around with her younger sister Skipper... LMFAO

• United States
18 Sep 07
Yeah you should see it when I start breaking into full text scripts. LOL that is really classic.

•
16 Sep 07
My favourite toys were sylvanian families. i collected loads over my childhood and loads of builidings. The only problem is that I was so attached to them that i can't bear to get rid of them now/pass them down but they are rather bulky and take over most of the loft!!

• United States
16 Sep 07
I have never heard of them, is it some type of like barbie size family, or like miniatures? Do they have entire villages and all, or is it just a few buildings. I know what you mean about not being able to get rid of them, I still have all of my cabbage patch dolls.


• United States
17 Sep 07
I think clowns are creepy. But hey of you like them I am glad that it brought you joy.

• United States
18 Sep 07
Awe I am sorry to hear that everyone should have a dolly. *tear* I bet if you could have had one it would have been a beautiful one.