the reason hating japan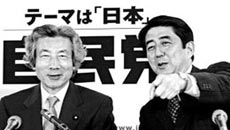 China
September 17, 2007 11:25am CST
i hate japanbecause it is evil.many chinese people hate japan in china.japan aggressed many countries,but it don't admit the fact which do exist inthe war II.japan develop very fast and it is rich now. but its attitude make people in other countries craze.the competing between china and japan is more and more serious.china is developing fast like japan used to .japan is afraid china more and more strong.they hate chinese because chinese ask them to admit the history they don't like.
2 responses

• United States
17 Sep 07
well, it is your idea... not all bad tho. I want to ask you something, what kind of image do you have on your profile? chinese or Japanese?

• China
17 Sep 07
do you see it is japanese.ok.thank you for your dicussion.you could say more when you have some in your mind.regardless agreeing with my idear or against .ok?

• United States
17 Sep 07
hey hey... take it easy, I am on here not to being against anyone or disagree with anyone at all. you dont have to be mad... I didn't say anything wrong, i just wondering if you hate Japanese that much, so why you have their display image(your photo) as Japaneses? If I really really hate this person, then I dont have to display my photo to represent them at all... I agree with my next discussion, he/she is right. Not all of them are bad tho, if you dont like it then dont support it.. and that's it.

• Brazil
17 Sep 07
Well I respect your opinion but I don't hate Japan because I think it's wrong to hate a WHOLE country because of some people Many people in my country hate the USA because of all violence and because they say the USA think they're the world's owner but I also don't agree Some people really think there are only the USA in the world, some people in Japan give reasons for us to hate them, but I think I'll never hate a whole country because of a group of people In Japan, in the USA, in all countries there are the good people group too :) And people aren't exactly THE COUNTRY ITSELF. The country has its own nature, beauty and everything :)

• China
17 Sep 07
thanks for your response. i know what you said is right.but none could like the person in the country that most of people is evil,may be.the government represent their people and their country.you can't like the dog which is craze because you don't know how much it will bite you.