Certain times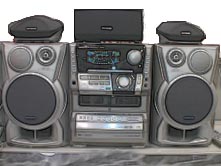 United States
3 responses

• Philippines
24 Sep 07
I listen to music when I am at home in my bedroom, while doing mylot, reading and just about anything here. I also listen to music when I am driving my car. I would prefer to have music on than not as it gets a little boring when driving without nothing to listen to when I'm driving alone. And lastly, I turn the radio on and listen to soft music, like jazz when we are about to sleep and would like to leave it on while sleeping. We are used to having music while sleeping. It's kind of strange when I get woken up and find that there's no music on.

• China
22 Sep 07
I usually tend to listen to music when I am travelling on a bus or a train. Usually when I surf online, I don't turn on music as I need a quiet atmosphere to read and respond to discussions.

• United States
21 Sep 07
I like to blast the radio when I'm cleaning. It's the only thing that really gets me motivaed about doing it. And then I can usually get the kids to help too. Dancing around picking up toys. The only person who I can't seem to get to help is my husband. hmmmmm.....