Do you have a favorite pair of slippers?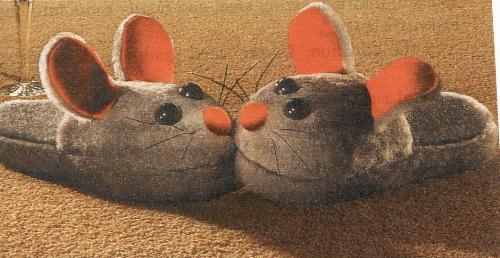 Canada
7 responses

• Philippines
22 Sep 07
Yes, I do have a favorite pair of slippers. I like the simplest one. It is not slippery and very comfortable to wear at. I can not live without it. lol Because i could not walk around the house bare footed.

• Canada
23 Sep 07
Hi izathewzia!I know,i catch myself going barefoot sometimes and im rushing to find my slippers.It feels so weird without them on,especially on ceramic floors!lol.Brrrrr!:)

• United States
22 Sep 07
Hello peanutjar, My favorite slippers are white and fuzzy. They are very worn out, holes in the soles, the inside well worn. But I can't seem to get out of bed without them. I really need a new pair, but I just can't bear to part with these. I've had these about seven years now. I've looked for another pair like this one and of course I can't seem to find one. So, until I find one, I'm keeping these. Happy posting..

• Canada
23 Sep 07
Hello there!I too cannot get rid of mine!lol.They are knitted ones well worn out but i keep stitching a piece of yarn in where the holes are and keep on wearing them.Its hard to find a pair that i actually like and is comfy for my feet.:):)

• United States
21 Sep 07
I used to have a favorite pair of slippers. They were Great big Comfy slippers that looked like spongebob. Yes I am a big kid! lol. They were so comfortable and in the winter they would keep my tootsies nice and warm! I wore those poor slippers until I wore holes in the bottom of them. Evetually poor spongebob had had all he could take and I had to retire him to the trash can. I haven't been able to find another pair since. If I did I would definitely buy them!

• Canada
21 Sep 07
Sponge bob is hilarious.I actually think i saw a pair one time when i was at a store(wal-mart).There was alot of gardfield ones i know!They were big and fluffy.LOL:)

• Philippines
21 Sep 07
Hello! 5 yrs old ago my mother bought me my first-one & only animal stuffed heads slippers (like you said*hehe*) of winnie the pooh. I don't really like pooh before as i've always liked tazmania. When my mother gave me those slippers she was very excited and was giggling. I had lots of slippers but not those kinds. I didn't use those slippers for a long time, I wrapped them in a transparent plastic wrapper to keep them nice and clean. I only started wearing those slippers when I was pregnant,*hehehe*. Now it's still at home, looking nice and new. My baby sometimes wears them and plays with pooh's head. Those are my fave slippers. Take care..enjoy your weekend! *wohoo* ciao! c",)

• Canada
21 Sep 07
I dont know,but when i think of pooh,i think of little babies playing with pooh things.I think maybe because alot of the stuff for babies tend to lean toward the whole pooh thing.Im sure your baby loves them!!:)

• United States
21 Sep 07
I had a pair of blue fuzzy slippers that I loved,but alas so did our puppy. He chewed them up. So now I need new slippers before the cold weather season gets here.

• Canada
21 Sep 07
They like to chew on shoes and fuzzy slippers!lol.Better watch your new ones.:):)

• United States
21 Sep 07
Totally! I have an old pair of pooh bear slippers from when I was a kid. Of course I can't fit in them anymore, but they're like a special thing to me, they bring back memories, lol. :]

• Canada
21 Sep 07
My daughter has a pair that she doesnt fit in anymore,but tries to squeeze her tiny feet in anyway.She becomes frustrated and says"how come they dont fit mommy?Did they shrink?"lol.She still keeps them in he room.She loves pooh.:)

• Philippines
21 Sep 07
yeah, i sure do have a favorite pair of slippers, a favorite pair of sandals and a favorite pair of shoes. my favorite pair of shoes has long retired. i got rid of them only when they were already impossible to have them wearable in anyway. my favorite pair of sandals is still usable but already very worn out. my children forbid me to use them yet i still do because they are most comfortable for shopping walks. as for slippers, i have a favorite pair of house slippers which is more than two years old already. it is still very much wearable, still far from retiring but its shape and appearance tell of the age. the color too is very much olden already. but those favorite pairs of ours never go unless they are totally unusable. that's how we are, right?

• Canada
21 Sep 07
I tend to hold on to the comfortable ones,even if they look rundown,raggy and color faded.I have a pair of knitted slippers that i love.They keep my feet warm and they feel good to walk around the house in.As soon as i come in the house,they are sitting by the door and i put them on immedietly.lol.The red has turned orange and i stitched some of the yarn back in on them.:)