Do you pack lunches?

United States
8 responses

•
21 Sep 07
I pack myself a lunch for work everyday, as it stops me from spending money in town on food! I generally make myself some form of pasta dish, or sometimes i have salad. I love chisken and bacon salad. However, now it's getting closer to winter i think i will start to take in soups or stews and heat them up in the kitchen at work. Whatever i have for my lunch i also always take some fruit with me, generally an apple, orange or some chopped pineapple and melon.

• Philippines
22 Sep 07
Hi. As much as possible i pack lunch or atleast bring something over to my work. Sometimes, i will buy biscuits, cookies and candies that i store in my cupboard in our office. I work in a university so the canteen and food court are pretty far and just simply walking to and fro is a big waste of time. Plus packing lunch is very convenient and cost-effective:-D


• Italy
24 Sep 07
Yay, sure. I prepare lunch at home - at university i've horribles hours, so to not spend money in food at uni's bar...

• United States
24 Sep 07
I pack my lunch almost every day. I always have juice and some sort of snack, but what I bring as my main entree varies from day to day. I will either bring a salad, a sandwich, or some sort of frozen meal. Rarely, I will bring leftovers from home.

• United States
24 Sep 07
I have to pack a lunch for my daughter for preschool 3 days a week. She usually takes peanut butter and jelly or eggs. Shes probably the only kid who brings hard boiled eggs for lunch. I wish I could send her with other stuff, but shes a picky eater. She also takes jello, pudding or fruit and a juice box.

• Malaysia
24 Sep 07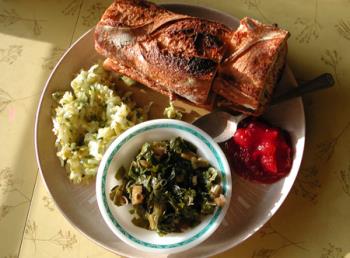 I don't usually pack lunches but if I do decide to pack lunch one day,I'd like to have roast chicken,a hot bun,coleslaw and prolly some green beans.Hrmm..this is making me hungry!I love Japanese Obento Box!

• United States
22 Sep 07
I always pack my daughters food, she usally likes PB&J or ham sandwiches, chips or pretzles, fruit, and either jello or apple sauce

• United States
22 Sep 07
From time to time I just pack a lunch however I want. I've tried lots of combinations. Other times I get so involved in my work I can easily work the 9 to 10 hour day without a real break.