Singing

United States
11 responses

• China
16 Oct 07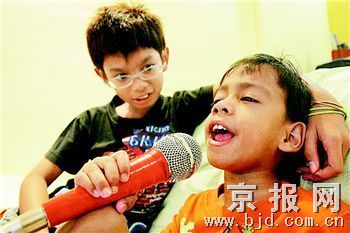 Absolutely not,lol.But I do go to karaok with my younger sister and my boyfriend from time to time.Although they laugh at me sometimes I never get mad at them.At least I enjoy it and have fun,lol.

• Philippines
5 Nov 08
i really love to sing and its one of my hobbies. i usually sing when there is an occasion and when i am asked to. many of my friends congratulate me for having this kind of talent.


• India
26 Sep 07
i am good singer, lol, but havent sung for along long time, i guess its transition time for me now, lol, anyways i do sing well and have also many times on stage and got some rewards.lol. singing apple.

• China
26 Sep 07
I am not a good singer at all, but I would like to sing with the song played on TV, raido and such. I love to sing to myself at home, not in public. I feel shy for my poor singing voice.


• Philippines
26 Sep 07
Ha! Yeah, that's me. I'm a terrible singer, but I like to sing along when I hear my favorite songs. I don't allow myself to sing in public, though. I would be very humiliated. It's nice if you have your privacy, I could sing my heart out. LOL

• Philippines
26 Sep 07
i love singing a lot but i dont have that nice voice. i can carry a tune, just that my voice isn't really qualified to be a singer. lol.


• United States
26 Sep 07
I love to sing but couldnt hold a note if you paid me. I definately wont be the next american idol, but I will continue to sing in the shower. Everyone sounds better in the shower.