In your opinion, what is the greatest invention of all time?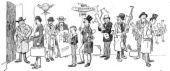 Philippines
September 30, 2007 6:27pm CST
I salute all the inventors. Their capability is way, way beyond normal. But some of them invent for the sake of nothing... well, just to say that they invented something. So, of all the inventions we encounter nowadays, which do you think is the most promising? Please justify your answer. And if you yourself have invented something, please share it with us. Who knows...
7 responses



• Philippines
2 Oct 07
It's got to be radio technology. If someone didn't think of using radio signals, there wouldn't be communications (well there is the snail mail and the pony express), there wouldn't be media, there wouldn't be entertainment, etc. It's the grand daddy of the technologies we enjoy today. Sure, electricity is also one of the greatest inventions because every single technology on this planet runs on it ... but then if there's no radio, Earth is boring place to live in. Incidentally, we are using the same technology to determine if there are other intelligent life forms out there in space. :-)

• India
1 Oct 07
hey great discussion!!!! anyway according to me, the best invention is the electricity.. we need it for everything.. We rely much on electricity.. even to charge a laptop you need to plug it.. even to use the internet we need it..(even to charge our mobiles!!) The equipments used in our day-to-day life uses electricity.. so i believe it is one of the best inventions!!! thanks for starting such a discussion!!!

• China
30 Sep 07
hello, want2bmommy. The same as you, I salute all the inventors. Our world will not be so beautiful but them. But I think the invention of 'paper' is the greatest invention of all. In nowadays paper is very common, but it really played a very very important role in the human history. Thanks to the paper, the usefull and significative points can be recorded and prepares for the future prosper.

• United States
30 Sep 07
I would have to say 100% the internet. It's made this world flat- something that would never have been possible without it. It's increased the standard of living more than we can understand. I read recently that if you took all the data on the internet... all the music, pictures, html files, EVERYTHING... and weighed it... Guess how much it would be? Less than one grain of sand. Incredible.