Old Coins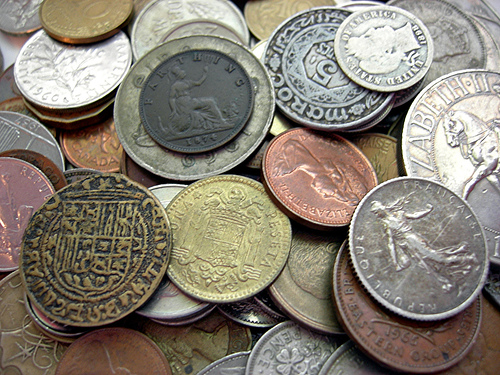 Philippines
October 1, 2007 8:46am CST
How much does an old coin costs? What is the minimum and what is the maximum price of it? If I surrender an old coin to a bank, would they still be paying or they will just accept it and just say thank you? I was thinking of getting rid of my old coins, I feel like I don't need 'em anymore. So Hopefully someone will be able to reply to this discussions. If no one will respond, it will be fine. Thank you..
6 responses

• United States
1 Oct 07
It really all depends on how old they are. I know some flea markets have coin shops set up. You can try some of them.

• United States
1 Oct 07
Just make sure you research the true value of the coin before you go. Some people may try an cheat you, but most of them will give you what they are worth.


• United States
1 Oct 07
If you take your old coins to the bank, they won't give you what they are worth. If it is a nickle, they will give you 5 cents. You have to check with coin dealers. You can usually check on ebay and see if anyone is selling that coin and see what it is worth. My husband collect coins and he has one that is worth $1300 right now. He did buy it for $800, but at least is is worth more. Not all old coins are worth something, so do your research.

• United States
1 Oct 07
If they are US coins, maybe you can check the US Mint site. I don't know if they tell you what coins are worth or not. Good luck.

• United States
16 Dec 07
As said, it depends on what the coin is, and how old it is. You'd have to go to an appraiser to figure it all out. Be wary of trying to do it online, you are better off doing research for a real appraiser or doing the work yourself. Things to take in mind though. Don't clean the coins so it lends to authenticity. Damage, misprints are also worth improvers for coins and other historical assets. Some coins are worth more than the face value but again, that'll need more expertise and it depends on the coin in question. This might help you out just to get started Quawertz. http://www.ehow.com/how_17245_determine-value-coin.html

• United States
31 Oct 07
Old coins still retain their value. If you have an old penny then you could use it as one cent in the present. They are people who will pay more than the dollar or cent value of the coin or dollar.

• Philippines
29 Dec 07
hi quawertz! i also would like to know. but i think it depends on the decade where your coins were produced. i have mine that dates to 1970s, (philippine coins), but they say, they don't worth much. they are just exchanged 1 is to 1. so maybe, i will just wait until they are valued more. i think i have 500 pieces of them. so that would be nice, they will be worth P100 each. hehehe thanks! God bless and happy new year!