Webkinz Games: Which Are Your Faves?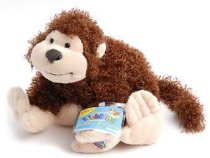 United States
October 1, 2007 9:18am CST
Mine are all the trivia games and the tournaments like Quizzy's Word Challenge. I was playing Cash Cow and got a message on the screen that said a present was left in my room; it wasn't in the room, it was in the dock and it turned out to be a trophy! Out of curiosity I went to the W Shop to sell it to see how much I would get for it, they offered 85 points. No deal. Some of the games are almost impossible to play like the Tulip one with the faeries. Home Before Dark is a new one but I can't get past level four. The pieces flip too slowly!Anyone out there have a favorite game at the site?
5 responses

• Canada
12 Oct 07
My favorite game was cash cow. I have gotten several trophies that I sent all my friends one and now sell them. I like the jobs like floor assistant for 200 a pop. I also like the tiles game. I got kinda hooked on that new game home before dark, but once I was dreaming about turns I could do I said enough! The new academy is interesting too. Got the strength pass.

• United States
12 Oct 07
I like playing on webkinz. I started when my daughter asked me if she could get on it. I told her that I would have to check it out first. Ever since then I've been hooked. I like doing the quizzes, playiong the Mah_jong like game. I love playing word games.

• United States
9 Aug 08
Same here, started playing when we bought one for my daughter. If you are looking for rare Webkinz, go here: http://www.WebkinzGame.info

• Canada
24 Nov 08
My kids joined webkinz about a year ago and originally I was helping them, now I find myself online playing games on theor accounts. They don't mind since they get extra kinzcash. My favorite games are Get eleven solitare, cash cow, tile towers and goobers lab. I also like Operation gumball, but I am not very good at it yet. So far I have gotten trophy's in cash cow and goobers lab. This website ( www.webkinzinsider.com ) has a section with tips on how to get trophies and hints on the games. It also has other neat info on webkinz too.

• United States
12 May 08
I love cash cow and I have tried a few times to get a trophy with no luck. oh well.

• United States
17 Nov 07
I love doing the academy stuff, but have a hard time choosing which classes to attend since you can only do 3 a day. I love the Tile Towers, Wacky Zingoz, Supermodelz, Chef Challenge, Cash Cow, and the new Solitaire. I think my favorite thing is buying clothes for my Webkinz and dressing her.