mylot is addictive

Malaysia
6 responses



• Malaysia
2 Oct 07
i've been in here for the past 2 hours.still addictive I guess

• Malaysia
2 Oct 07
yeah it's pretty addictive! When I first joined, I logged on to mylot almost everyday, even if it's just for a short while. I neglected other things that I usually do online to spend time on mylot hahaha. But nowadays, I don't get to login to mylot as much as i want to, or used to. nowadays since i'm tied up with other things, i can only login to mylot a few times in a month huhu.. T_T

• Malaysia
2 Oct 07
hey kevsgirlalways,i know what you mean,sometimes I get so busy and occupied with other stuff I forget about mylot too.

•
2 Oct 07
I'm also totally totally addictive in mylot. After I have once logged in mylot then I can't get out off mylot until I have more important thing to do then mylotting. Ususally I spend like 2-3 hours in mylot in my weekdays and during weekends I spend like 5-6 hours and sometimes even more than 8 hours. It is just too addictive.

• Zambia
1 Oct 07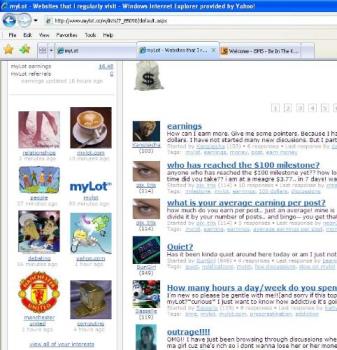 myLot™ is quite addictive, especially when you find topics on your interests. Many times, when I log in, I rush to check what's on at interests. Then I check topics I have started and those that I've responded to. That is where the addiction comes in. For I want to respond to the topics and follow-up onthe responses as well. Over and above, it is a cool place worth spending time on, as long as it is not compromising more worthy time!

• Philippines
1 Oct 07
Mylot is indeed addictive, I just can't sem to let the day pass by without checking my posts and responding to toher's discussions. My usual stay here is around 2 hours, straight. I get to check and log in here every once in a while to see how things are progressing here. But it seems that I am not much into rhythm being here, my thoughts and hands can't seem to cooperate working with each other. I just hope that my enthusiasm here returns, since I don't want to miss those topics of which I am interested in posting at..

• Malaysia
2 Oct 07
hello raijin,thank god I've got my slides covered!