The Halloween Season

United States
October 2, 2007 8:54am CST
Halloween is back!! What is everyone going to dress the kids in their lives up as? I'm not sure what my nieces are going to be, last year they were a witch and princess. Who knows what they'll be now! =) I hope to find out soon. If you don't have kids, or even if you do, what are YOU going to dress up as, if anything? Last year I was an Egyiptian Goddess! =)
5 responses

• Canada
2 Oct 07
Hi LilyoftheThorns, We went to Walmart a few weeks ago with my daughter (16 months) and she picked out the costume herself. I was very impressed with what she picked as I am a huge Tigger fan too! I am hoping we can take her trick or treating for the first time, but with us living in Canada one never knows what the weather is going to do. Have a good day! ~*~ PurpleTeddyBear ~*~

• United States
2 Oct 07
Aww Tigger! I love Tigger too! lol. That's going to look so cute! I hope you get to take her trick or treating too. It'll be a big disappointment if she doesn't get to go :(

• Canada
26 Oct 07
Yes, it will be disappointing if she doesn't get to go, BUT she can help us give out candy, and still dress up!

• United States
28 Oct 07
That's my job, giving out candy! lol. That'll still be fun for her if she gets to help pass out candy, and of course dressing up will make it better! :)


• United States
3 Oct 07
Oh do you have any photos of you as an Egyptian Goddess?? Would love to see! :) One Halloween when I was about nine, my mom dressed me up as Cleopatra..LOL

• United States
3 Oct 07
I do have a picture with me in the dress lol. But it isn't during Halloween. It's a picture right after we got home from a theater conference. The end of the conference there was an egyptain themed dance, so my halloween costume was perfect! lol.

• United States
3 Oct 07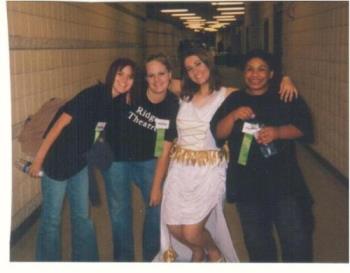 Oops I meant to post the picture on my response! sorry about that lol. Here it is=P

• United States
6 Nov 07
I was a witch but a good one. My boyfriend was the grim reaper. One of my grandsons was a construction worker and the other one was a devil.

• United States
6 Nov 07
A construction worker! That must have been cute! I was a good witch A LOT of my halloweens. It was my favorite costume as a kid!! Grim Reaper...scary!

• United States
31 Oct 07
we are dressing my 2yr old up as a little ninja and then we are gonna take him trick or treating for a little bit around out neigborhood and then we are gonna come home have pizza and pass out candy ourselves orr at least thats the plan anyways

• United States
31 Oct 07
That sounds great! Pizza...candy...a cute little ninja! Sounds like one heck of a halloween! :) I wouldn't mind having pizza on Halloween! =) Thanks for sharing! :) Sounds great!

• United States
2 Oct 07
Our 5 year old picked out a pink lepard costume at walmart. For our 2-1/2 year old I found a bubble bee costume that looked cute, if its still there when we go back. Either that or a little angel costume, which is her exact opposite lol. For our 2 month old I found the cutest little devil costume. It says "my little devil" on the front. It has little horns on top and a pointed tail in the back. Its too cute.

• United States
2 Oct 07
Bumble bees are always really cute!!! All babies/kids look adorable in them! A pink eopard costume! That's gonna be cute! I don't think I've ever seen that one. A cute little devil costume for a baby! Awww lol.