Most influencial person

United States
October 27, 2006 7:01pm CST
Who has been the most influencial person in your life so far, and why? Mine has been my great grandfather, who taught me how to be patient, and strong, and kind, even in the face of grief and adversity.
1 response

• United States
31 Oct 06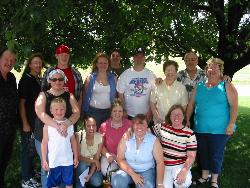 My most influential person in my life to date has been my Grandmother (She's the one in the yellow next to my mom who's in a bright blue shirt). She has been the only woman in my life that has always been true to her word, never said a bad word about anyone and has always tried to take care of anyone who needed her. I strive to be the same way. I'm in the doo rag in case you're wondering...

• United States
31 Oct 06
I think that everyone should have someone in their life like this, someone that teaches them to be honest. I think it makes you a better person!