Did you ever won in a photography contest?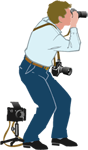 Romania
October 5, 2007 3:43am CST
Do you regularly participate in photography contests? Support your answer (if yes) with useful links. I'm doing it, not so much for prizes but to share my artwork. Recently though, i've had the great surprise to win a photography contest (a funny one, having as theme self-portraits in happy tones). Apart from that, i participate in Softpedia (romanian forum) Photo Contests, Orange Anual Photo Contest (Romania), etc What about you?
2 responses

• United States
5 Oct 07
No, I dont really participate in photography contests but maybe I should start! I feel as though i'm quite a wonderful photographer and I would love to have others feel the same way about my photos! Any and all contests that anyone knows about should pm me a list of them :D

• Denmark
5 Oct 07
No i have never entered a photography contest. I am a newbie to photography,i just bought a canon 400d a month ago, just before i went to africa on safari. I took some great pictures down there but i do not think they can win any competitions.... ;-) I hope to get better and lean how to be a good photographer.