any idea's? I'm open to suggestion.

United States
October 5, 2007 11:52am CST
i am hopefully planning on a wedding for next summer. i really want something unique something different that noone around here has seen. i'd also kinda like my reception to have a theme sorta thing. like halloween but i don't want my wedding in october. i really don't have much of an imagination. but i want something different. like instead of rice i'd rather have live rose pettles or something. any ideas would be great. please help
6 responses

• United States
11 Oct 07
As lilaclady says, you can pick a theme that represents something both you and your spouse-to-be are interested in, and if you cannot get a theme from that....then at least pick the theme together so you can both enjoy it on your special day. Once you pick a theme, it will be really easy to make plans to match the theme...it's hard to think of what to plan unless you have an idea of what you intend the theme to be. If you don't want your wedding in October, perhaps you can pick a month first and then get a theme from a holiday that is in that month. I hope you have a great time planning your wedding and a beautiful wedding!

• United States
13 Oct 07
I'm glad to hear it! And if you have time, keep us posted. I would love to hear about your theme and what stuff you pulled together to make it work for you. I know you might be too busy ...but in case you have a spare moment in between! LOL

• India
6 Oct 07
I know throwing rose petals as you pass by feels and sounds romantic. I thought that as well. But in reality, the petals cause a lot a mess especially after people have stomped all over it. It dirties the halls and the area around you quite a bit. What i am thinking of doing is getting glitter paper and cutting it up into small fine pieces and asking people to throw that instead. But its jus a suggestion.

• Canada
11 Oct 07
I had a beach theme for my wedding. The cake was made to look like a sand castle and the favors were treasure chests with shell clusters on top. The colors were turquiose and gold (sand and sea). The card box was a really neat open treasure chest with ribbons and shells. We pretty much made everything by hand to cut down on cost but there are lots of things out there. My suggestion would be to go to a wedding supply store and see what kind of themes they have. You'd be surprised at some of the things out there.

• Australia
5 Oct 07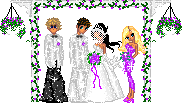 I guess because a wedding is a personal once in a life time thing ( hope so ) if being a theme one should be about something you, your partner to be or both have an interest in. Some people go for a colour or some activity in their life, life if it was me I would have a lilac wedding and something to do with music as I am connected with a few bands, I guess it also depends when you are getting married, like if it was in Spring you could have a Spring wedding and hgo over board with flowers, I hope you find your idea...good luck.

• United States
23 Oct 07
I am getting married in June '08. I too want everything to be special and personalized to us. I chose the theme "Live Laugh Love" because it describes what that day will mean to us!! We have bubbles for people to blow instead of the rice. (Will write more later-- i have a 17 month old... he just woke up)

• United States
8 Oct 07
Have a chritmas wedding and dress as mr and mrs clause LOL no i ma just kidding. I dont know I think that a summer wedding would be nice to have it outside somewhere but if you do go more summery for your dress and keep it short cause of the dirt but I think that a very pale pink lacy dress would be beautiful with a grey tux to match im not sure what theme that might be, and pink roses or some kind of pink flower. I dont know I hoep you come up with something wonderful and what ever it is It will be great anyway