do you have kids spaced years apart?

October 5, 2007 4:06pm CST
hi, I have 4 kids. 12 14 and my daughter would of been 10.(passed away at age 7). Just over 2 years abo we got my nepwhew witch we adopted he is 5 now. So there is a 7 year gap between him and the next boy. We alos may get his twin sisters that were just born 6 weeks ago or so.
2 responses

• United States
6 Oct 07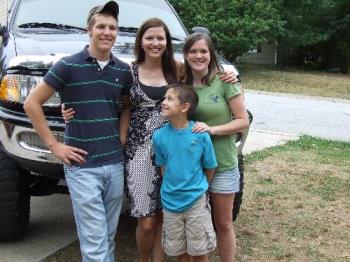 My husband and I have 4 children. We like to say, yours, mine and ours. They are 22, 18, 18 and 9 (my son and my step daughter are two months apart). That's 9 years between our two middle and our youngest, 4 years between the oldest and the middle, and 13 years between our oldest and our youngest. The youngest has also been good birth control for our other children, since they were older when he was born, and helped with him, they know what a big job it is to have and take care of an infant, and a toddler, and they didn't want to have one too young themselves.

•
6 Oct 07
ya that is good. to many young teens start to young and it is good they can learn. There are joys and up and down to parenthood.

• United States
5 Oct 07
I am so sorry to hear about your daughter, that must still be very hard. I have a 26 year old a 20 year old and a 13 year old. All boys, I never really took birth control all these years, by all reason I should have had 10 or more. But God decided each time I got pregnant. After my last son he decided that was all. Thank goodness really because at the rate I had children I would have been 50 when the next one came LMAO I admire you for adopting. Every child deserves to have parents that want and love them.

•
6 Oct 07
wow that is differnt. i had mine about 2 years apart. i got my tubes tied after my daughter or i probly would have alot . cuss i didnt plan any of them.thnaks again