Metallica...whats your song?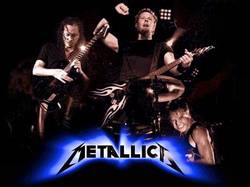 United States
October 5, 2007 7:19pm CST
Do you have a song or a favorite song from Metallica? When I was married 12 and half yrs ago, My hubby and I couldn't decide a song for our dance...Well,Metallica came on the radio and the song was "Nothing Else Matters".We both said right there and then that was our wedding song! Everybody thought we were crazy at first,But when we danced to it everybody seen that it fit us as a couple! And when we fight or something does go wrong we get out the Cd and play that song and relize we can get threw anything and nothing does matter as long as we are together and make our marriage work....Is anyone else a fan of Metallica? Whats your favorite song? And why? Is ther a story behind the song?
2 responses

• Norway
6 Oct 07
That's awesome, that you played Metallica at your wedding! I will ideally do something similar in my wedding if I get married to a Metal chick. Might not be Metallica, though. Anyway, as for songs, my favourites are pretty much Master of Puppets, Battery and Sad But True I think. It's hard to decide on just one of them. I think it's really cool how you can use the music as a sort of therapy for your marriage! A lot of people seem to think of music as pure entertainment, but I think there is massive potential in music for other uses, as it can definitely affect our moods. I'm not necessarily saying that angry music will make you angry, 'cause it just makes me feel alive and motivated. I think it's more about finding something that works ;)