AvRiLiScHe (avril Lavigne)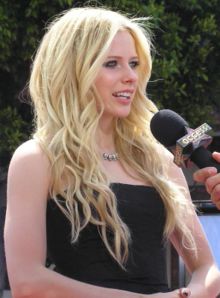 Philippines
October 7, 2007 8:25pm CST
Avril Lavigne... the Famous rocker princess... who among you love this skaterg gurl??Avril Lavigne Whibley, better known by her birthname Avril Lavigne, born September 27, 1984, is a canadian rock/pop singer musician and actress. In 2006, Canadian Business magazine ranked her the seventh most powerful Canadian in Hollywood. Lavigne birth surname is usually pronounced in anglicized way as/'ævr?l l?'vi?n/"La-Veen" (in French it is commonly pronounced Avril is French for "April", while la vigne means "the vine" or "the vineyard". Lavigne's debut album Let Go, was released in 2002,and went on to sell over 18 million copies worldwide and was certified six times platinum in the United States Her second and third albums, Under My Skin (2004) and The Best Damn Thing (2007), respectively, reached number one on the U.S. Billboard 200. Lavigne has scored five number one songs worldwide to date and a total of eleven top ten hits, including "Complicated","Sk8er Boi", "I'm with You", "My Happy Ending", and "Girlfriend". She ranked # 50 on VH1's "50 Greatest Women Of The Video Era" show list. Avril Lavigne was born in Belleville, Ontario[13][14] to a devout Christian family.[15][16] Lavigne's musical talent was first spotted at the age of two when her mother says Lavigne began singing along with her on church songs. The family moved to Napanee, Ontario, when Lavigne was five years old. In 1998, Lavigne won a competition to sing with fellow Canadian singer Shania Twain on her first major concert tour. She appeared alongside Twain at her concert in Ottawa, appearing on stage to sing "What Made You Say That". She was discovered by her first professional manager, Cliff Fabri, while singing country covers at a Chapters bookstore in Kingston, Ontario.[13] During a performance with the Lennox Community Theatre, Lavigne was spotted by local folk singer Steve Medd (a relation of the influential Canadian journalist, Ben Medd), who invited her to sing on his song "Touch the Sky" for his 1999 album Quinte Spirit She also sang on "Temple of Life" and "Two Rivers" for his follow up album, My Window to You, in 2000.
7 responses


• China
28 Oct 07
I love her. I love her attitude towards life,music Her voice sounds passionate.She knows where she's going I love her everything except her husband


• Philippines
12 Oct 07
Yeah i don't like Avril now. She looks kinda awkward, especially doing that "kinda-burlesque" themed music video. i forgot the song title. I think she's beginning to lose herself. Maybe she's at a crossroads in her life, she's changing too much too soon, that's why she comes off as quite weird to me nowadays. It's like what she's doing now isn't really her but someone else's idea of Avril Lavigne as a singer.

• United States
8 Oct 07
I liked her old stuff; she can take that Best Damn Thing and shove it up her butt!

• Philippines
8 Oct 07
i so love avril her voice is very relaxing and i really cant get enough of her :) i mean when she pronounces each word she has that english accent . . i just love her thats all . .