Jericho, tv series

United States
October 12, 2007 9:57pm CST
I have never watched the television series called Jericho. My son in law has recommended this to me and my husband as a must watch show. We don't have it at our local Movie Gallery store. I was wondering how many of you here on my lot have heard of this show or can tell me about it or recommend it. We are thinking of signing up at Netflix so we can get some of the series and movies that our local store doesn't get. Looking forward to hearing from you :)
2 responses

• Canada
13 Oct 07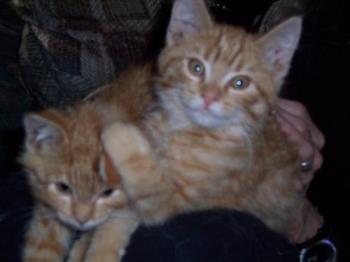 Hi...and thanks for the friends request...it is accepted...and I love your Avatar by the way. Is that your cat? I love ginger marmalade cats...we have two and I have included a photo of them seeing as you must have a thing for them too if your choice of Avatars are any example. Anyway...on to your question about Jericho. We started watching it last year and thought it had been canceled. Evidently viewer response was so overwhelming that the network decided to reinstate it. So if that is additional 'proof' about how popular it is that is it!Personally, we enjoy it a lot. It is a rather eerie depiction of what could occur if food and supplies were affected by any national or political event. There are strong characters and good plot development with lots of twists and turns. There are unexpected outcomes too...so yes, it has our vote! Cheers, Raia Hope you like the photo of Tigger and Tee-Too..comments are always appreciated!

• United States
13 Oct 07
Thank you so very very much for sharing with me. Now, you've got me wanting to go out and rent the series as soon as I can get my hands on it. My son in law highly recommended it to us! Yes! I love the orange kitties. The cat on my avatar is mine, his name is Old Yellow. We call him yellow, or yellow kitty, my hubby calls him old yeller :) He is like all our animals, he arrived in our yard several years ago in bad shape, he had his tail injured and wrapped in duct tape! He trusted us from the beginning and eventually quit going "home" wherever that was and he is ours now and we love him. The sweetest most gentlest kitty I've ever seen, but he will fight for what is his. We had another pretty orange one named Buckwheat and Yellow raised him from a few weeks old and taught him ALMOST everything he knew. He saved a few tricks so he could whip his hiney every chance he got :) But sadly, a couple of weeks after Buckwheat was neutered, he ran into the road (we live in the country) and was hit by a car and we had to have him euthanized. I miss him terribly. Something special about those orange colored kitties, they do bring a smile to your face and he purrs sooooo LOUDLY!! Looking forward to sharing discussions with you here on mylot :)

• United States
13 Oct 07
Did he tell you what the series was about? I've caught it a couple of times, and the storyline is really fascinating as it deals with a small town caught off from the rest of the U.S. after a nuclear attack. I didn't know it was out on CD's. I really enjoyed watching it. A really good actor, Gerald McRanee (sp?), is in it and I happen to like him a lot. I think you'd enjoy it as well.