Does mylot make us internet addicted?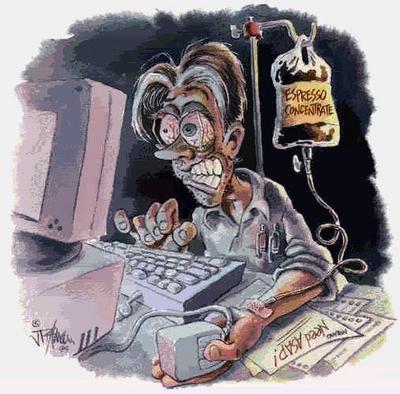 Romania
6 responses

• India
19 Oct 07
It is a bit of control over mind can prevent getting addicted not only to mylot or for that matter any habits too. Though the site is quite like magnet pulling towards it like iron, one can decide whether to stay here, how long to stay. Whenever I have a lot of work, I do not come to this site. I visit the site whenever I am free. I also visit other sites.

• Philippines
19 Oct 07
how long have you been here ssh?:-)

• Algeria
14 Oct 07
It's the INTERNET who addicts us , MYLOT is a REASON and the net is the most RESPONSIBLE , if you find yourself spending time on the net more than with FRIENDS or FAMILY , at WORK???? , or does the INTERNET threatens your WORK LIFE , your FAMILY LIFE , be sure you're ADDICTED and you need a treatment , so I need to go for a doc FIRST :)

• Romania
19 Oct 07
You are right the internet get us addicted.If we have only the computer we would not stay so much addicted,today everything we do has a lot to do with the internet(e-mails, news, money....and a lot more).The internet is just part of our life.

• Australia
14 Oct 07
i do get addicted to the computer but not to my lot i use the computer all the time

• Romania
19 Oct 07
Well that is not very good to get addicted with the computer, but if you like that.....

• Philippines
19 Oct 07
Most of the times, I burn 3 to 4 hurs here on mylot. Mylot is the site I spend time this long, others are just a visit and checking on social sites. The addiction I get here are mostly driven by 'hunger' in learning new things, meeting friends and longing for fruitful conversations. I've chosen to stay here for a change, since it's better here than chat and browse for other unproductive sites around the net..

• Pakistan
19 Oct 07
Yes it does made us addicted to the internet,in the beginning we were writting here for money but since we have become addicted to it they reduced the payouts but still we are writting here ,but unlike before so our attention has diverted towards surfing not writting much here in mylot .... instead of that mylot has reached its maximum earning potential just because of us ,but mylot not sharing good revenue out of its own earning with us ,unfortunately ........... i was spending almost 3 hours a day for few pennies here but since few months i have stopped myself for being a fool by mylot ......

• Philippines
19 Oct 07
well yeah i guess. i use my pc pretty much the whole day because i work at home. and then mylot is a wonderful addition. even if i am no longer working, i stick around to answer topics and post my own. just last night, i stayed with my husband at the computer store that we own just so i could mylot. lol we went home around 12:30am. lol