14 years old KID sang LISTEN by Beyonce so great!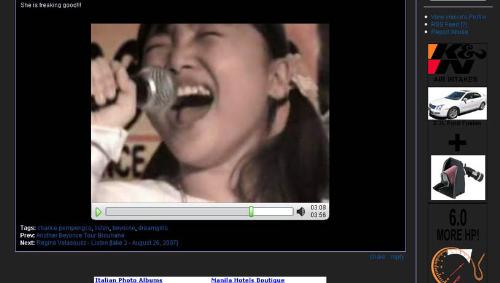 Philippines
October 15, 2007 11:04am CST
I was surfing the internet when i came across to this web page in Multiply. I've got amazed by this 14years old girl when i saw her video. Check this out guys! http://chiccoholic.multiply.com/video/item/70 She's freaking good yeah, and tell me what ya say about it!
2 responses


• Philippines
15 Oct 07
Hi there, thanks for dropping by... Well, believe it or not, she's the one who's singing in the video.. And I have some videos to share with you guys... It's also about the girl.. I came across to this videos of her in Youtube.. Try to check these out.. Part 1: http://www.youtube.com/watch?v=uFZdm8eqEuE&mode=related&search= Part 2: http://www.youtube.com/watch?v=KGN04x7xnMU You'll see more of her from there! xoxo

• Philippines
30 May 09
that is charice pampengco, right? yes she is truly and really good. and now she is already well known internationally. she first came out from abs-cbn tv contest shows hosted by ms. sarah geronimo. she was not given such break because she just won 3rd place at that time because of text votes. eventhough she is really my bet to win. instead sam concepcion won. but what the heck! whats important is that she is more famous now than any one else here in the philippines! and i am so proud of that girl! she was known because of youtube and then ellen! thats her first break through! yehey! hail to us filipinos!

then came oprah! wow! what a girl! like her so much and her voice!