Traveling is a great past time

Abernathy, Texas
7 responses

• Delhi, India
17 Oct 07
I have never been abroad, I wish I could.

• Abernathy, Texas
21 Oct 07
Your from India right - isn't it huge? I did say other countries or states - I'll admit not to know how other countries like yours are broken up. Have you been to other parts of India other then your own? I know its a separate country - but have you never been to Ceylon - Sri Lanka?

• South Africa
16 Oct 07
we have been to only one extra country. mozambique. we owned land there and we used to go camping there. other than that, i have seen most of my country.

• Abernathy, Texas
21 Oct 07
How nice that you've seen most of your country. I haven't been to your country or to Mozambique. I have been to Cape Verde and Senegal though.

• United Kingdom
16 Oct 07
I really love traveling and have been to many countries to enjoy the different landscapes and meet people from other lands. It is enjoyable to hear a foreign language, see native wildlife and explore interesting sites. It can be fun to go snorkeling to see coral and fish, to walk up a mountain to see a fantastic view or to go on an exciting walk seeing wildlife on the way. I have been to many countries like Australia, New Zealand, the Cook Islands, French Polynesia, Samoa and Fiji. I liked the tropical beauty I saw in the Seychelles and the Maldives. One of the best trips I ever did was to Mexico, Belize and Guatemala. I have been to the USA and the lovely Caribbean island of St Lucia. I so enjoyed a fascinating trip to Israel and Jordan. In Europe my favorite cities are Dubrovnik, Salzburg, Prague and Budapest for all the historical buildings. I see a bit more of my own country these days as well. I have been to 46 countries altogether I think.

• Abernathy, Texas
21 Oct 07
Woy you are very well traveled - I wouldn't mind going to half the places you have - and for the same reasons - to enjoy different landscaps and meet people from other lands - and of course - sample their food. Why were countries in South America your favourite trip? Where would you like to go next?

• United States
16 Oct 07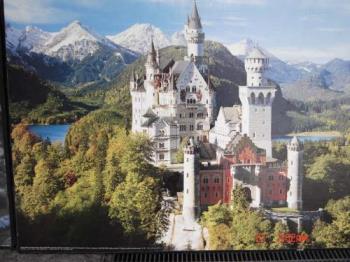 I have to say at first I love to travel, becuase I can see how other people live, what is their history what kind of food is typical for their country and so much more.I come from Europe, so the most countries I visited there.They are Holand, Crotia, Switzerland, Austria, Germany, Poland, Hungary, Czech, and few more.Here in USA I was in not so many states yet.Only Florida and Maryland.I cannot say I have one favourite place, since every place has something enjoyable and interesting. I am adding one of the picture from my traveling.It is castle from Germany.Very nice place.

• Abernathy, Texas
16 Oct 07
What a wonderfully detailed response - wow you've traveled quite a bit. That picture you included is one I have as a screensacer - different angle though - and its a winter scene.

• Canada
21 Oct 07
I am a Canadian. I draw the line at visiting the North West Territories and I certainly do not want to see very single square footage of my country, I have been to Washington, Oregon, North Dakota, Minnesota, Saskatchewan, Alberta, British Columbia, Vancouver Island, and Manitoba. We went to see relatives going through Ontario, New Brunswick and Prince Edward Island to visit relatives. and back through the States until we got to North Dakota, going from Maine (sorry I missed seeing Stephen King) down to New York, and then west through West Virginia, Pennsylvania and then towards North Dakota where we crossed into Manitoba. We also went to Alaska as well on an Alaskan cruise. I really loved it, but when we went through the states, I wished I had saved enough money in my us account so I could buy something.

• Abernathy, Texas
21 Oct 07
That would've been cool had you met Stephen King! I lived in Alaska for awhile during one of my adventures. You have traveled a great deal - I envy you!

• United States
20 Aug 08
I forgot to least West Virginia, and Kentucky, and N.Carolina. and S. Carolina.

• United States
20 Aug 08
Just two. Araba and Bahamas. I went to Aruba to celebrate my ex husbands uncles 50th birthday and the Bahamas for no reason other than just to go somewhere tropical for vacation.

• Abernathy, Texas
20 Aug 08
Very nice! My best friend went to Aruba and said it was nice in every way and the people especially.

• United States
20 Aug 08
I love to travel I just don't have the money like I use to. I have been at least 11 place not over Seas though.

• Abernathy, Texas
20 Aug 08
Very nice. Traveling is great over seas or land~