Is college really THAT harsh/hard/difficult/ridiculous? Please, help!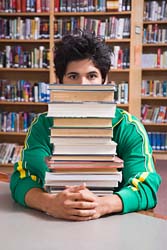 United States
October 16, 2007 6:31pm CST
OK, so here is a story that will make you spit out your coffee for sure: I am a Senior in high school, enrolled in Dual-Credit, which basically is where you go to a college class and get credit for college AND your high school credits. One of the two that I am enrolled in is Government. Our teacher, who to paint a picture is an overweight Native American/Mexican American-mix short middle-aged tomboy-acting lady, walked in and talked about how she made her class fun, and until recently it was: all we did was take notes via the huge screen and she played whatever music we wanted while we were doing it, we could have iPods, we could have food/drinks, etc. And she let us out about 10-15 minutes early every class period. Then,//footage of atomic bomb dropping//, one student complains to the HEAD OF THE GOVERNMENT/HISTORY DEPARTMENT at the college that our professor is not assigning us any work - a lie. She assigned us book assignments. She also complained about the amount of note-taking. SUCK IT UP. In college, if you don't like a class - you DROP THE CLASS. There ARE other Gov prof's there. Anyway, now she has changed her method, and being quite stubborn and childish about it at the same time. We will now be doing lecture-notes, "and if you all can't keep up, tough."Also, no more music, iPods, eating, etc. Plus, today, for instance, she got p-ssed badly because one student had to leave on a high school band thing...she went on a rant about how "high schools need to learn that..." and how "I can change your grade and there's not a d-mn thing you can do about it. "Well, recently, I've been a little overwhelmed with my two college classes: this week I have an English essay/paper due with 8 homework activities, a History research paper due, and next week a 90-question take-home exam due (with information from about 200 book pages and 50 given note pages) and another English essay paper due. Now, I know that the first two years of college are just the basics - like high school; but d-mnit, I'm so tired of high school and am just waiting to get out! And I'm just in two college classes!Is college this difficult? Hard? "Tough"? Harsh? Ridiculous?
3 responses

• United States
16 Oct 07
Well if you are taking a full load of high school class - less those 2 college classes then you do have a load of work. College is not that difficult is you establish your priorities and keep up with your work and plan right. I have gone to grad school 1/2 time while working full-time and being a Mom. It can be done.

• United States
16 Oct 07
True. But 3 1/2 out of the 5 high school classes I have (don't ask, lol) are electives that I keep a 100 in...you know - the "easy Senior classes." I've always been HORRIBLE, and I mean BAD, at prioritizing and need help to "un-procrastinate" myself...I have made great attempts at doing this, and really need to focus this year on the two big classes. (For instance, right now I have an English paper I need to be doing...which I'll go start on now.) :)

• United States
17 Oct 07
There are many things to keep in mind when deciding how many credit hours to take each semester. If you are planning to continue to be covered under health insurance through your parents you generally must be a full-time student which is usually 12 hours per semester. If you are hoping to complete college in four years you will need 15 hours per sememster to complete the number of hours most colleges and universities require for an undergrad degree. Most colleges charge a full-time tuition rate that covers anything from 12 to 17 hours per sememster so if you sign up to take 15 per semester it won't cost any more than if you only take twelve so cost-wise it is worth taking those extra hours. Also, if you register for additional hours and decided to drop a class you will still be a full-time student because you'll still have at least the 12 hours. Now, for your original question...the difficulty of college will depend mostly on how well prepared you are for it and how much effort you put into it. I found college fairly easy because I attended a demanding college prep high school. Believe me, my classes in college were easy compared to high school for the most part. During my senior year I worked full-time and attended school full-time. It was a crazy schedule but I made it and was so glad to have finished my degree. You obviously are willing to work since you are already taking the credit classes. Keep up the good work.