Makin A Break For It..Even Packed A Lunch..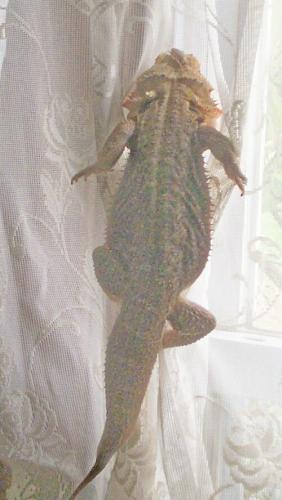 United States
October 20, 2007 9:35pm CST
The other day I put up new curtians in my dining room. Well the new ones are floor lenght. My Bearded Dragons Tank is right next to one of the windows. I dont put a screen cover on his tank because he dosent try to get out. Well he liked the curtians and figured out a way to get on them. He started climbing up. I looked and he had a cricket on his head!! LOL. He was taking a trip and packed a lunch!! LOL. The cricket didnt even try to jump off. I went over and took Piston down and put him back in his cage. He hasnt tried to get out again. I thought this was funny and wanted to share with all of you here at mylot. Thanx!!
7 responses

• United States
28 Oct 07
Thanks for giving me best response. hugz

• United States
25 Oct 07
my beardy loves to get out of the tank we have to keep a lid on it or he is all over even when we feed him the first thing he wants is out of the tank

• United States
25 Oct 07
LOL. Mine usually never tries to get out. He still hasnt tried again. I think he just wanted to explore the new curtians.


• United States
21 Oct 07
That's cute. Maybe he wasn't trying to get out but he'd just always wanted to try mountain climbing :) and maybe the cricket was scared of heights and afraid to jump off of his head. Oh oh or even better! Maybe your bearded dragon was superman and the cricket was Lois lane :)

• United States
21 Oct 07
LOL. Thats funny. You never know what he was thinking. He hasnt tried to do it since, but he looks up at the curtian like hes ploting his next escape..LOL

• United States
21 Oct 07
That is funny. It's funny that the cricket went along for the ride, willingly. It was apparently, unaware, that it would end up as lunch. I've never had a bearded dragon. It sounds like an interesting pet.

• United States
21 Oct 07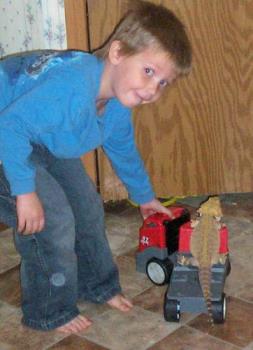 They are interesting pets. They are really fun to have. My kids like to drive him around on their trucks. Thats fun to watch. He just sits there like he enjoys the ride..LOL

• United States
21 Oct 07
that was too funny my friend,i guess he was hungry and decided to catch something on the run.hes own little fast food restraunt lol.pattie

• United States
21 Oct 07
Way too funny...He is quite the lizard...Packing a lunch was the best part...What next...LOL