We doggy-sat our German Shepherds biological brother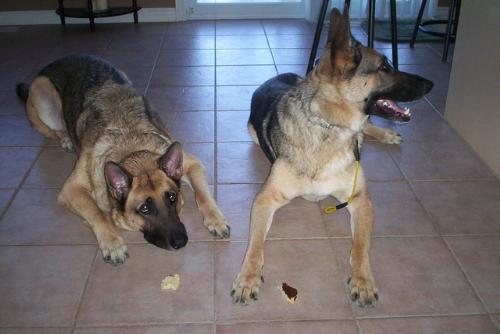 Canada
October 23, 2007 12:14pm CST
It was so much different having two dogs running around. I'm used to being shadowed by our dog but when I have two of them following my every move, it becomes a tripping hazard. Seriously though, it was so much fun watching them run around the yard together and fighting to see who will be alpha...that part was frustrating because I couldn't tell if they were playing or fighting. Of course, I took a ton of pictures and video. How many people babysit other dogs? Do you doggy-sit often? Have you done it once and swore never to do it again?
1 response

• United States
23 Oct 07
I haven't doggy sat. I have enough animals around my place as is, not to mention most people wouldn't want to give my hounds a chew toy. Your shepards might be big enough to play with em. Not that my hounds are mean or anything, they just play rough. You'll have to check my profile for pics of em since I can't upload from here.

• Canada
23 Oct 07
Voden and Macha are so cute! They're huskies, right? I can just imagine what they'd do to a chew toy LOL!

• United States
23 Oct 07
Actually their Wolf/Malamute. Their a good bit larger than Huskies. Macha usually dosen't care for toys unless there's a squeekey involved. Then its destroyed in 30 seconds or less. Voden just prefers to horde them or make you chase him to get them back. My wife & daughter keep losing things because they keep leaving stuff laying about in the main part of the house. Guess where they're ending up, Vodens little hiding spot in the weeds out in the pen.

• Canada
23 Oct 07
They would be quite a bit larger than huskies. I've never actually seen one. I guess eventually the wife and daughter are going to learn to put their stuff away or lose it for good LOL!