Euthanizing pit bulls?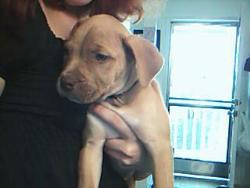 United States
October 28, 2006 5:38am CST
Who thinks this should be mandatory in your state/country? Let me know why or why not.
2 responses

• United States
9 Nov 06
ALABAMA... NO WAY!! how about euthanizing the sick people who get their jollies of fighting the poor animals! why cant people see the real problem...THE OWNERS

• United States
2 Dec 06
I live in Pennsylvania. I definately don't think that it should be mandatory. I agree with the above...the stupid people who fight them should be euthanized, not the awesome dogs who are wonderful family pets. How would everyone else feel if they started taking their beloved Labs, or Poodles just because another dog of their breed did something wrong & euthinize all of those breeds?!