I love to watch the birds that come to my feeders.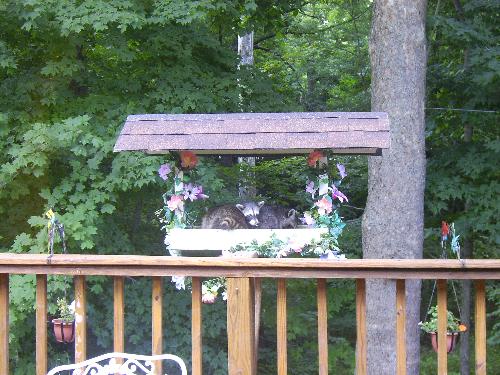 United States
October 28, 2007 8:12pm CST
Since moving to a very wooded area I have become enthralled with watching the birds that come to the 2 feeders we have on our deck. Every morning while my coffee is making I go out and fill the feeders with fresh food. By the time I come back in and get my cup of coffee ready they are coming in by the dozens. If the weather is permitting I sit on the deck and it is amazing how that doesn't seem to bother them. My husband will sit there and talk to them. Like they really understand him. They just kinda tilt their heads and look at him like he's nuts, but keep on eating. They have given us so many hours of pleasure. I am going to download a picture of my feeders but if you look very close you will see what I found in them one afternoon. 4 baby raccoons. I grab the camera and started clicking. The mama was down on the deck keeping her eyes out for them. They stayed about 15 minutes and then she got on the railing and all 4 of them followed her around it and then off into the woods. It was amazing. Hope you enjoy the picture.
1 response

• Panama
29 Apr 08
I think that is so much fun. When I use to live with my paents, we had a couple of those feeders and the birds just grubbed out. I always think those birdfeeders give a backyard that touch of nature coping with animals its so great. If you like birdwatching check out thi store, when I needed a pair of binculars to watch birds they hooked me up! --- www.birdwatchingbinoculars.biz