Any fans of Dan Brown..???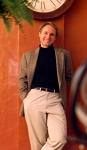 India
November 3, 2007 11:25am CST
Hi Frnds. I am a great fan of Dan Brown. I have read his "DA VINCI CODE" " ANGELS AND DEMONS" "DIGITAL FORTRESS". Each one is a great by itself. Please tell me what you like about Dan Brown and his books. Any new books from him coming up???
5 responses


• Singapore
28 Nov 07
A "Deception point" movie? Now there's something to look forward to.

• Australia
26 Nov 07
I have read Angels and Demons and currently reading da Vinci code now... I think he is an Excellent author... I find it hard to read books sometimes but not with his.... I can't wait to read more of his books....

• India
27 Nov 07
yes i too just cant stop once i start reading.its intersting rite frm beginning to end.

• Malaysia
3 Nov 07
For 'Da Vinci Code' I have read it and I found a gripping mix of murder and myth. A heart-racing thriller. This story has so many twists. All satisfying, most unexpected, that it would be a sin to reveal too much of the plot in advance. Let's just say that if this novel doesn't get your pulse racing, you need to check your meds. But I don't know about his future latest writing material.

• India
5 Nov 07
so have you read his other works.even they are equally exciting.

•
16 Jan 08
I have only ready one book by Dan Brown, and I absolutely loved it. I love the controversial book, especially if I know that it could be true. I have not ready Digital Fortress, but it sounds interesting. What is Digital Fortress about?

• India
1 Jan 08
hi there what i love about the author is he blends the facts with the fiction perfectly. in da vinci code he used the theory of the masons which is historically true and gave it a murder twist. in angels and demons he used the rivallary between the church and science brilliently and pointed out that how faith can sometimes blind u and make u do what ur faith opposes. in digital fortress he took the issue of our freedom of speech and the issue of our security . so all and all he is 1 of the best of authors of our time