Im so glad people actually like this film, i thought it was only me.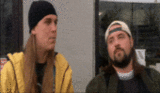 3 responses

• United States
6 Nov 07
lol! i was the only person in my family who liked that movie! course ive always loved Jay and Silent Bob, and truly how can you not? LOL! of course i have a tendency to like stupid movies..and you must admit it does fall under the stupid movie catagory, but it IS funny!

•
7 Nov 07
yea it is stupid, i really didnt kno many other people who liked it n now ive made peace with it. lol

• United States
15 May 08
Jay and Silent Bob Strike Back is a very funny film,and I have seen it a couple times,and I hope to see it atleast a couple more,because Jay and Silent Bob are totally awesome.

• United States
21 Jan 08
I accualy have not yet seen it but I want to. I looks hella funny.