Do You Use ChaCha to Search?

United States
October 28, 2006 10:17am CST
I am a search guide on ChaCha, and I'm curious to know how many people actually use it to search. It's a pretty cool concept really- when you need the answer to something quickly, and don't have time to search, or are busy doing something else, you allow a search guide to find the answer for you. How many of you have done a search using a guide? http://www.chacha.com
11 responses

• United States
28 Oct 06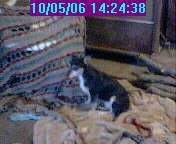 Yes I have used it to search several times. I do alot of searching online but the chacha found some things for me I was having a hard time getting an exact match on. I am now an apprentice. I can not wait until I get my training done. I am waiting for searches while posting. http://www.chacha.com http://www.chacha.com/info/guidesignup

• United States
28 Oct 06
Excellent! I agree with you that ChaCha guides often find items and sites that are difficult to find on your own. I've had a lot of people thank me for finding things quickly that they had a hard time finding! Good luck on being an apprentice! I will probably be training you ;)


• United States
29 Oct 06
Yes it does! I know the new Beta system coming out next week is going to solve a lot of the current problems. We have to expect that an experimental application is going to have some problems- but being a tester is pretty cool, too!

• United States
29 Oct 06
Me too! I'm so glad I got in on the ground floor of this endeavor.


• United States
29 Oct 06
Thanks! Are you a guide, or do you use it for your everyday searching?


• United States
28 Oct 06
Great! Hopefully, I will be the guide for your search :) Let me know how you like it.


• United States
29 Oct 06
Please do! It's a great time saver.


• United States
29 Oct 06
Sure, just use the link I placed at the top of this discussion. Put your search term in the box, and choose the Search With guide button. You will instantly be connected to a live search guide (yes, a real human!) who will clarify the search you entered, and find very specific results. Try it out and see how well it works for you!

• United States
12 Nov 06
You should try out a search on it- it's fun! Just go to www.chacha.com and put in whatever you would like to search for. Then hit "Search with guide" you'll be connected to a real person in real time who will do all your searching for you!


• United States
6 Nov 06
I had heard about ChaCha recently and checked out the website. Its pretty impressive... Found a link to becoming a guide.. and applied.. I got an email saying that they are not looking for guides for now.. What does a guide do in terms of helping with a search? Do they get paid well ? What kind of qualifications are they looking for in a guide ?

• United States
12 Nov 06
ChaCha is in the process of training all the guides they have now. Once they do that, I'm sure they will open registration again. The pay is not enormous- you get paid by the search minute ( it comes out to about $5 per hour) but the GREAT thing about it is you can access your pay immediately. So you can pay yourself as often as you like.


• United States
12 Nov 06
About a week, but ChaCha has closed registration for new guides right now. Hopefully they'll open up registration again soon. the thing is, we have so many guides that aren't fully trained yet. They want to train everyone first before they add new people.


• United States
29 Oct 06
Works great when you are doing 5 other things and don't have time to wade through it all yourself, doesn't it? I can be working on something and having a guide finding something at the same time. I now it's a great time saver for me!