Does money really make you happy? How?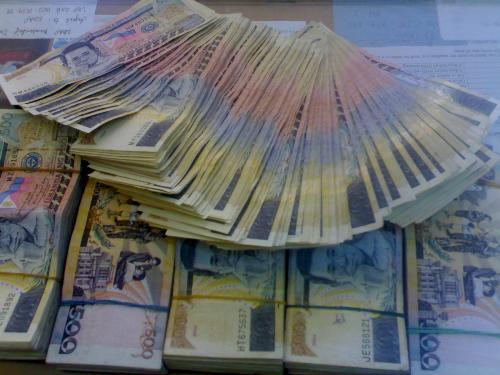 Philippines
November 11, 2007 11:08pm CST
I know, it is a material world. so you cannot really move these days if you don't have money in your pocket!!! but does it really make you happy, truly, madly and deeply happy... how? thanks mylotters!!! gud day to everyone.
3 responses

• Philippines
12 Nov 07
Money without contentment and being appreciative will not work for me, it has to be a combination of life and how we make good use of it. A poor man can be happy, even if he doesn't possess any money or other material things in this world, as one can be happy of what they have. Happiness comes within us, we enjoy life not just because of money but because we are thankful of what we receive.

• Philippines
12 Nov 07
thanks raijin, you are right, if you are not contented without, then you'll never be contented with with! does that make sense... i mean a lot of people say that you cannot buy happiness. it must be true because a lot of rich people are not very happy ones. thanks and have a good day or evening, depending where you are at in the world. c",)

• India
12 Nov 07
money is important to make a living bt money is nt everything for me.i just that much money in my life which can give me a bit comforts n i can b of help to my relatives n family whenever they r in need of it.i dnt wanna ,much.money gives a momentary happiness ,a materialistic happiness.for me nothing is more important than love .gud day to u as well

• Philippines
12 Nov 07
well gud for you nkhanna. you i mean, what you have you share. i really think that it is a good characteristic to have. keep up the good work. you know what, the true spirit of happiness is love, and you'll receive love by giving. i think the spirit of christmas has already visited me. LOL. MERRY CHRISTMAS EVERYONE!!!

• Philippines
12 Nov 07
Money could make me happy coz you get to spend and buy the things you want ..But if you worked hard for that money i dont think that is fun ..Maybe if you win a lottery or somthing thats fine but if you work for other cause no Spending is not in my dictionary thanks. LOL