Can you guess correctly what your dog wants to say?

India
5 responses

• India
13 Nov 07
I think, it would be hell of a task for him to try and figure out my reactions which is as dumb as it gets. For this reason alone I haven't had a dog ever, Bala.. lol..


• Delhi, India
14 Nov 07
I do not have a dog. But I understand a pet dog wants to be treated like us and want us to shower our care and love for him.


• Malaysia
14 Nov 07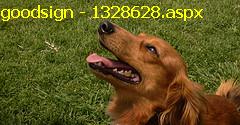 I don't have any pet, but my Indian neighbor family (Kana & Kavita) got one nice pet dog and for every evening they take their dog for walking. They said to me, dog "body and voice" language can be learned through dog training class. They got their good lesson from that dog training class and make use it to communicate with their dog. HAPPY DAPPY.

• Turkmenistan
13 Nov 07
I do not have a dog at the moment, but when I do, I am pretty good at figuring out what it needs. I don't think a human being can have a dumb reaction when it comes to animals. We don't speak the same language. At least I know that I don't speak in bark, do you?