Are you aware of 28 Months Later???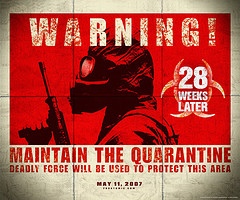 United States
3 responses

• Philippines
15 Jun 09
I have never heard of that movie. What is it about? It seems interesting but it's 2009 and I still haven't seen any trailer of any such upcoming movies. Could it be that it was already shown but I missed it? Thanks for the response on my discussion :)

• United States
21 Jun 09
Hi oyenkai! The movie series is about zombies. It's a great series about zombies. One heck of a virus breaks out and spread rapidly turning everyone into a mindless raging horde that wither infects or kills every human in it's path. Those that are not infected are killed and eaten, or vice versa. Each movie follows a small group of survivors, with very very little hope. Basically it's a family movie to be shared with your young ones lol. No seriously don't let children watch these movies, it will disturb them.

• United States
14 Nov 07
I really liked 28 days later. I haven't seen 28 weeks later yet. It's in my netflix queue. I'd heard about 28 months later, could be interesting. I just hope they don't decide to do a 28 years later next. That would just be a bit much.

• United States
14 Mar 09
I am really into virology and biology and survivalism, and I frakking love these movies. They seriously show one of the most believable scenarios for a major catastrophic disaster on earth. There are already a few viruses running around the planet that have potential to become a "rage virus". A zombie apocalypse is getting more and more possible as we dig further and further into genetics. I think that more people should see these movies just for the reality of it all. I don't mean to sound like a paranoid mad scientist, I just really really liked these movies and look forward to watching "28 months later". It's not like the sick would be gone very fast. I could potentially see "28 years later", where everyone is pretty sure the virus has been gone for years and years and then WHAMMO it pops up again and wipes out the eastern seaboard. sorry this was such a long post. nice ears!

• United States
6 Jun 09
Yes, I believe what could happen as well! I was even thiking about H1N1 flu stuff and nowadays anything can be happening including mad zombies and insane infected people. I also am looking forward to 28 months later as well! lol I and my friends were talking about the same thing, it will probably goes to 28 years later!! Thanks for your comment about my ear as well and sorry for the late reply, I have been totally busy with taking care of 15 months old daughter and didn't really have a chance to be on Mylot like used to.