Invisible friend... do you have one when you are still small?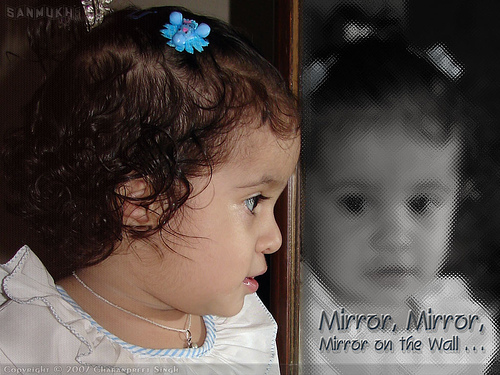 Philippines
November 14, 2007 8:58pm CST
having four children and seeing them growing is a really fun experience. of course it was not always fun lol but it is a good experience. seeing them growing and looking back on what they are before in their pictures makes me smile. we always laugh at those old pictures they have. and when they were little they have this invisible friend.... sometimes their dolls and sometimes a person or cartoon they see most of the time on tv. so how about you do you have an invisible friend when you are little. as far as i can remember i have a invisible friend her name is abby, and i always talk with her when i am in front of the mirror. but i can no longer remember when did i stopped talking to her. how about you do you have an invisible friend when you are little? how about your children do they have their own invisible friends
6 responses

•
15 Nov 07
ohh i dont remember at all, but i have a doll her name is delilah and i talk to her and always go wherever with her. and when im sick she is always at my side. hmmmm maybe she is my invisible friend or can i say visible but not answering at all friend....hahahar

• Philippines
17 Nov 07
my my my delilah....wow. i cant believe im singing that song now. thanks for the response

• Australia
15 Nov 07
Yes. I believe I had several, depending on where I was at the time. In my adult years, I have ghosts that now follow me! Makes you wonder if they were the imaginary friend of yester year! lol. My children are still a bit too young to go through this yet, although my 4 year old keeps going on about her pretend baby! lol. It is natural and healthy for a child to have an imaginary friend. it is one of the ways they evaluate who they are and their place in the world.

• Philippines
17 Nov 07
oh yes i think having a imaginary friend is healthy but still as a parent we need to be visible friends for our children. hugs. thanks for the response

• Australia
17 Nov 07
LOL. how true! Even as I am sitting here typing, I am joining the kids in their sing alongs with their dvds!

• Philippines
21 Nov 07
wow two thumbs up for you mom. i still remember my children when they are still little even if im cutting veggies and cooking or washing clothes i make a point to have an activity for them so we can help each other. i also remembering dancing with them with their favorite songs.


• Kuwait
21 Nov 07
no i dont think so that i have invesible friend, but one of myfriend she has invisible friend and even follow us her in my house, the thing we know is from my dog he will play and barking in our sala tell kitchen he keep on running same like he play with us so we know 's that we have companion in the house,actually we never feel her already since my friend change her house.in that time we make joke or this inviseble friend that she cannot reach her because it's expensive the taxi lol

• Philippines
21 Nov 07
hahaha i think your friend's invisible friend lives in the house where she used to live, by now that invisible friend of hers has a new friend already. thanks for the response


• Philippines
21 Nov 07
well good to hear, you are not as wacky as we are...lol. maybe you are the type who would rather have vissible friends. thanks for the response

• Australia
16 Nov 07
hmmm...i don't think i have an invisible friend..and i don't even have dolls when i was a kid...i only played by myself or usually play with other kids... but what i can remember when i was a kid is, i see 'stuffs' that others can't see...i mean, there are some kind of 'humans' that i see...they are actually colored ones...i don't talk to them because it is my nature not to talk to someone else... and then, all of the sudden, those 'stuffs' just disappeared...maybe the could've been my invisible friends if i talked to them...

• Philippines
21 Nov 07
hmmm thats was scary. if i seen one too i wont be talking to them either. thanks for the response eden and welcome to mylot.

• Philippines
15 Nov 07
yup... i think all children do where you talk to them or even play some drama and play some roles :-) i even watch that "batibot" show then and then when i'm alone i play those toy stuff like as if making them talk

• Philippines
17 Nov 07
whahahaha batibot (again) i have responded one discussion about neighbors and the discussion went long and long and we ended up talking how many version batibot (lyrics) has. thanks for the response